By Stephen Kangal
February 24, 2007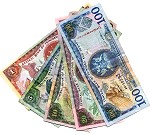 After disbursing a feeding frenzy/political patronage to the tune of $1.6 billion in CEPEP, the PNM Administration has nothing to show except some painted stones from which even the cheap paint has been washed away. The UNC Administration after spending an identical $1.6 billion has an airport to show, large deposits secretly stashed away in foreign bank accounts and supporters facing the courts for alleged theft.

The princely sum of $1.6 billion was spent to keep 5,000 CEPEP people wastefully engaged in non-productive employment at a cost of $300 million. The other $1.3 billion went into the coffers of the PNM contractors and agents. When the URP criminality funding war chest is added to CEPEP it will turn out to be a $2.5 billion bonanza. That windfall was neither subject to accountability nor transparency. It, however certainly transformed Laventille and Morvant into killing fields.
But the PNM Government found it a "drain on the Treasury" to dispense an annual subvention of $200 million to state-owned Caroni Ltd to keep 10,000 people, albeit a natural UNC constituency to quote Danny Montano, in productive employment. They closed down Caroni and want to administer the last rites with the cane farmers. The value of the lands alone taken away from Caroni for public purposes by Government annually was in excess of the said annual $200 million transfer. Therefore Caroni was no drain on the Treasury. It was viewed as an Opposition platform that had to be disbanded even though the cost to the economy was substantial.
Caroni, on the other hand subsidised the food bill of T&T by producing granulated and brown sugar, rice, citrus, dairy products, meat, molasses and bagasse. It earned annually US $200 million in foreign exchange from sugar exports. The local rum industry was built on Caroni's cheap molasses. Angostura is now reeling from the closure of the sugar factories and having to import expensive sugar and molasses from abroad. In fact Angostura has gone into ethanol production using cane as the feedstock and paying farmers twice the $200 pittance per tonne paid by the Government.
Caroni was more than sugar and an annual transfer of $200 million.The Manning Administration was pathologically and politically ill equipped to appreciate the intricacies of the sugar industry. Today the value of the bagasse is worth more than the sugar derived from the cane stalks.
The extensive public and private drainage system and recreational grounds in the sugar belt were maintained by Caroni for the benefit of rural communities. Aerial crop spraying kept mosquito infestation at bay. A community of 300,000 law abiding citizens depended on Caroni for their daily roti. That community was targeted for political victimisation and spite.
To add insult to injury Manning has decided to terminate cane production by farmers effective 2008 and to pay them a $25 pittance increase per ton of cane in 2007. What will these 7500 farmers do with thousands of 20,000 hectares of lands in 2008?
The PNM has always suffered from a psychological handicap in effectively utilising land.
Their supporters see the land not as the creators of wealth but as a place to get their hands soiled and dirty. The sugar industry always reminded them of slavery and as a consequence they gravitated to the services sector of the urban-suburban areas. They have neither empathy nor respect for the Indian rural folks who produce cheap and affordable food. They can be considered ruthless in the quest of their agenda.
The PNM Administration received no political mandate in 2001 or 2002 to close down the sugar industry permanently especially when ethanol and bagasse (cellulose) are proving to be huge money spinners at present. The future of the agricultural industry/land use is too strategic an issue to be decided exclusively by dictatorial PNM unilateralism and Prime Ministerial edict. It will adversely affect the food security and welfare of the whole of T&T long after Manning has assumed his pastoral collar and begin to walk in the valley of the shadow of despair that he will leave us.
All this dictatorial nonsense, squandermania and double standard are taking place while the protagonists of justice, fair play and caring governance maintain their loud silence because one ethnic group is immediately benefiting and another docile one has been brought to their knees by an arrogant and spiteful regime and kidnappings. In the process the future of T&T is being mortgaged to a depleting hydrocarbon sector. Gas is already short in supply so that we cannot fulfill our gas contracts to supply Jamaica and Barbados. BP Trinidad and Tobago LLC has warned the Manning Administration to reign in its promises of gas to all and sundry.
What we thought had ended in 1986 and evoked the confession "all ah we tief" seems to be making a return to haunt us again. This time after only ten years of the new but same old PNM and their pillaging of the coffers of the state to retain political control by dispensing unending patronage.
I am reminded of the adage that a fool and his money are soon separated.