4 shot dead in Morvant
By Nalinee Seelal, newsday.co.tt
January 23 2007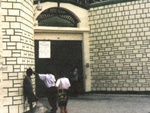 A 47-year-old Woman Police Constable attached to the Morvant Police Station, her 48-year-old husband, 20-year-old daughter and a man said to be in his '40s were gunned down by four masked gunmen, who stormed into the Pelican Extension, Morvant home of the officer around 8.30 pm last night.
The gunmen shot dead WPC Elizabeth Sutherland, her husband Ivan, their daughter Anika, and Kevan Serrette. Newsday also learned that a grandchild was present at the time of the shooting, but up to 10.30 pm last night could not be accounted for. Police helicopters were hovering over the scene and police officers were combing the area looking for the child.

The gunmen fled the scene in a waiting car. Neighbours of the policewoman alerted the Morvant Police, and a large contingent of officers went to the scene and cordoned off the area.
No one except police officers was allowed inside Pelican Extension as the officers carried out their investigations. Up to 10.45 pm the bodies had not yet been viewed by a District Medical Officer, but scores of officers from the Crime Scenes Unit were seen heading towards the house where the four killings took place.
Police Commissioner Trevor Paul and other senior officers arrived on the scene in heavily tinted vehicles and were led to the house where the bodies were being viewed by the large contingent of officers.
Officers described the killings as one of the most atrocious and brazen acts of violence committed against a police officer and members of her family.
Several police buses arrived on the scene with heavily armed officers and the area was being thoroughly searched for the perpetrators of this violent act.
http://www.newsday.co.tt/news/0,51157.html