Trinidad and Tobago News Blog
www.trinidadandtobagonews.com/blog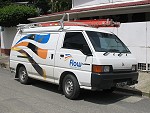 What is the deal with Flow cable TV these days? Several of their channels are too pixelated and they keep breaking down. Anyone else having these problems? Many people are also having problems with their analog decoder boxes that broke down for days.

I know from experience that when you call Flow about a problem they, more often than not, claim it is the first complaint they got about it. Apparently they tell this to other callers with similar complaints as well. For example, I called them once about a problem and had a friend who had a similar problem call them a few minutes after. He got the same response about it being the first time that Flow got such a complaint.
What I think they are doing (and I believe different internet suppliers do this too) is trying to minimize the extent of problems in the minds of those making reports. It's all poor service and dishonesty. With thousands of people experiencing this latest break down for days, they can no longer hide the fact that they have problems with their 'service'.
A. A. H.
Trinidad and Tobago News Blog's URL for this post:
www.trinidadandtobagonews.com/blog/?p=1636