By Sacha Wilson
Published: 23 Sep 2009 – guardian.co.tt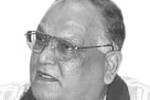 The State has to pay the Sanatan Dharma Maha Sabha, which operates Central Broadcasting Services Ltd, close to $3 million in damages for its unequal treatment and delay in granting them a FM radio broadcasting licence.
Justice Ronnie Boodoosingh awarded compensatory and vindicatory damages yesterday by way of a video conference at the San Fernando High Court.

This was the end result of a eight-year legal battle between the Maha Sabha and the State regarding the granting of a licence for Radio Jagriti 102.7 FM. Boodoosingh said this case showed discrimination "plain and simple."
He said: "The award was meant primarily to deter public authorities and persons exercising public functions from engaging in or persisting with unequal treatment." Expressing his satisfaction with the sum, the Maha Sabha's general secretary Satnarayan Maharaj called on the State to show good faith and ensure that those who discriminated against the Hindu community and the Maha Sabha were prosecuted.
Full Article : guardian.co.tt
Govt to pay SDMS $2.6m
Court orders compensation for discrimination
Refusal of radio licence to Maha-Sabha costs State $3M
FOR failing to grant the Maha Sabha a radio licence, a High Court judge yesterday ordered the State to pay the Hindu organisation almost $3 million.
Sat satisfied; Lee Sing calls it an error
Secretary General of the Sanatan Dharma Maha Sabha (SDMS) is pleased with the million-dollar award. Citadel's chairman and co-owner, Louis Lee Sing, said he felt the courts had erred and he was the one discriminated against in the matter.
Trinidad and Tobago News Blog's URL for this article:
www.trinidadandtobagonews.com/blog/?p=1628