Trinidad and Tobago News Blog
www.trinidadandtobagonews.com/blog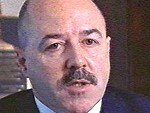 THE EDITOR: When VS Naipaul states "we pretended to be real, to be learning, we mimic men of the third world's third world" in reference to our post-colonial middle class elites he surely hit the nail on the head. Let's look at the latest fiasco.
Jack Warner with much fanfare brings Bernard Kerik to T&T. The "international crime consultant" flies in from Guyana where he is a consultant to Bharat Jagdeo's government. He meets with the Minister of National Security to discuss anti-crime measures. What is really going on? Who is this Bernard Kerik who is described in the New York Post of Wednesday January 3rd 2006 as: "…disgraced former [New York] police commissioner Bernard Kerik."

That newspaper goes on to say: "Kerik pleaded guilty earlier this year to misdemeanor charges of taking money from contractors with alleged mob ties, when he was the city's corrections chief. He was also President Bush's choice to head the Department of Homeland Security, but the nomination was scrapped after questions arose about his background."
According to the New York Times of December 30 2006:"Several agencies began investigating Mr. Kerik's relationship with Interstate Industrial, a New Jersey construction company that investigators said was connected to organized crime, a charge the company has always denied. He pleaded guilty last summer to two misdemeanors, including accepting $165,000 in renovation work at his former Bronx apartment from "the Interstate companies or a subsidiary." Mr Kerik was fined $215,000, in a plea deal with New York City 's juridical authorities.
Bill Van Auken writing on the WSWS.org website on 1 July 2006 said: "It appears that the plea deal involved a political decision by the city administration of billionaire Republican Mayor Michael Bloomberg to drop all other probes by the city's department of investigation into possible wrongdoing by Kerik. There were several such active investigations involving everything from charges of mismanagement of funds derived from the sale of cigarettes in the city's jails to suspect contracts, suspicion of credit card abuse at the police department, and the apparent use of city employees on work time to perform private tasks for the commissioner."
NEWSWEEK of December 19th 2004 stated: "…a New Jersey judge in 1998 had issued an arrest warrant [for Kerik] as part of a convoluted series of lawsuits relating to unpaid bills on his condo."
According to the web site The Progress Report (americanprogressaction.org): "Over the last several years, former NYC police commissioner Bernard B. Kerik, President Bush's nominee to be the next Secretary of Homeland Security, has become "a multimillionaire as a result of a lucrative partnership with former Mayor Rudolph W. Giuliani." Indeed, the New York Daily News suggests, Kerik's selection was less based on merit than it was on Giuliani's "pull within the White House" and "Kerik's work on the campaign trail" for Bush."
It goes on to say: "Kerik has made $6.2 million dollars in profits from his relationship "with Taser International, a Scottsdale, Ariz., manufacturer of stun guns." Kerik was appointed as a director of the company immediately after he had the NYPD purchase the guns as police chief. Since 2002, Kerik has hawked Taser's products to police departments around the country."
Newsweek reports that in 1999, Kerik "was named in a civil lawsuit as the architect of a system to force prison guards to work for Republicans in their off-hours." The suit, brought by a warden, claimed that Kerik would "hunt down" anyone deemed "disloyal." The suit was settled, with the warden winning $300,000 and a promotion, while Kerik's protégé was indicted in connection the scandal."
Other unsavoury dealings with which Mr. Kerik has been associated include a prominent Republican member of the Sept. 11 commission, former Navy Secretary John F. Lehman, sharply criticizing him "for failures of leadership during the terrorist attacks" of 9/11. Lehman said that Kerik allowed turf battles with the Fire Department to "hamper rescue efforts" and called Kerik's leadership at the time "not worthy of the Boy Scouts."
I think the point has been made. What is a man like this doing hanging around our already highly-porous national security bureaucracy? Maybe our political hustlers recognise a kindred soul and believe in the saying it takes a thief…
Gerry Kangalee
15 Turton Street
San Fernando
Trinidad and Tobago News Blog's URL for this article:
www.trinidadandtobagonews.com/blog/?p=159