Trinidad and Tobago News Blog
www.trinidadandtobagonews.com/blog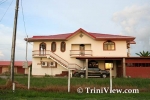 THE EDITOR: The onerous, burdensome, sting-in-the-tail and exploitative property tax imposed by the Minister of Finance in her barrel-scraping Budget Statement will have the effect of transforming the mentality of a proud and confident, property- owning, diverse population into a nation of transient renters. From childhood I was socialized culturally into not being a renter. Now I am being forced as a fixed income pensioner, after building and living in my own home, to regard and treat myself pschologically as a renter in my own home. A long term renter has no commitment to his community or country. He is always on the move in search of greener pastures. I do not want to be treated as that.

I have to pay 3% of my annual rent to the soon to be defunct BIR, as determined by the Valuation Division (1000% increase in house tax) into the coffers of a wild, deficit spending, irresponsible Government. I will not now be able to maintain my home. The valuable housing stock of T&T especially of the 200,00 pensioners will go into decline. The housing stock, inter alia, supports the value of TT dollar from depreciating.
They have now invaded even our bedrooms as bandits in search of our dwindling incomes after the CLICO debacle/financial meltdown has pauperized us. The people must be left with their own money to drive and fuel demand to take us out of the recession. The Government cannot spend for us given their political preference.
Minister Enill attempted to justify this draconian, vindictive tax by suggesting that current property owners paid 1948 determined taxes. He also said that his regime wanted to establish equity between rate payers of San Fernando and Arima and the rest of rural T&T. Minister Tesheira indicated that the property tax was in keeping with international standards without admitting that T&T is tottering way below acceptable international standards in human living indices. Where in the world do consumers in each household have to install and maintain expensive tanks, pumps and filters for water?
There is at present no equity between the level and sophistication of the infrastructure, services, public utilities and facilities lavished on and enjoyed by the people of San Fernando/Arima compared with the rest of rural Trinidad. They have first call on stadia, hospitals, concert halls, adequate water and electricity, shopping centres, CEPEP/URP gangs, markets garbage collection, social services and ample employment. These burgesses do not have to face daily rural to urban stress inducing, traffic snarls, dengue infestation and flooding.
How therefore can this further poverty-inducing property tax bring about any equity in the wide disparity in living conditions between rural T&T and the jurisdictions of borough/city corporations to justify the imposition of this dangerous taxation without any consultation with the stakeholders' NGO's such as the Land Tenants and Rate Payers' Association?
The cash-hungry, desperate Manning Administration has now invaded our castles. They must be stopped before they initiate a love-making or child-bearing tax. Taxation is endemic in the DNA of the PNM.
Stephen Kangal
Caroni
Trinidad and Tobago News Blog's URL for this article:
www.trinidadandtobagonews.com/blog/?p=1588