Trinidad and Tobago News Blog
www.trinidadandtobagonews.com/blog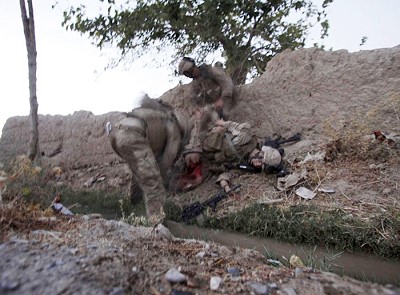 In this photo taken Friday, Aug. 14, 2009, Lance Cpl. Joshua Bernard is tended to by fellow U.S. Marines after being hit by a rocket propelled grenade during a firefight against the Taliban in the village of Dahaneh in the Helmand Province of Afghanistan. Bernard was transported by helicopter to Camp Leatherneck where he later died of his wounds. (AP Photo/Julie Jacobson)

Photo of Dying Marine Draws Fire from Pentagon
Defense Secretary Robert Gates has condemned the Associated Press decision to release a photograph of a US Marine wounded during a battle in the Helmand province of southern Afghanistan. The Marine, Lance Cpl. Joshua M. Bernard of New Portland, Maine, was struck by a rocket-propelled grenade in a Taliban ambush on Aug. 14. He later died of his wounds.
Death of a Marine in Afghanistan
NEW YORK (AP) — The Associated Press is distributing a photo of a Marine fatally wounded in battle, choosing after a period of reflection to make public an image that conveys the grimness of war and the sacrifice of young men and women fighting it.
AP picture of wounded Marine sparks debate
Defense Secretary Robert Gates expressed disappointment Friday at news outlets that used a picture taken and distributed by The Associated Press depicting a U.S. Marine mortally wounded in combat in Afghanistan.
Gates wrote a strongly worded letter to AP President and CEO Tom Curley on Thursday, saying it was a matter of "judgment and common decency" not to use the photo. A Pentagon spokesman said Gates followed up with a phone call "begging" Curley not to use it.
Gates wrote that use of the photo of a wounded Bernard would mark an "unconscionable departure" from the restraint that most journalists have shown in covering the military since the Sept. 11, 2001 terrorist attacks. The AP did not change its decision.
"Why your organization would purposely defy the family's wishes knowing full well that it will lead to yet more anguish is beyond me," Gates wrote. "Your lack of compassion and common sense in choosing to put this image of their maimed and stricken child on the front page of multiple newspapers is appalling."
Full Article : yahoo.com
Trinidad and Tobago News Blog's URL for this article:
www.trinidadandtobagonews.com/blog/?p=1574
#
(In accordance with Title 17 U.S.C. Section 107, this material is distributed without profit to those who have expressed a prior interest in receiving the included information for research and educational purposes. TrinidadandTobagoNews.com has no affiliation whatsoever with the originator of this information nor is TrinidadandTobagoNews.com endorsed or sponsored by the originator. You can read more about fair use here: www4.law.cornell.edu/uscode/17/107.html)