By Linda E. Edwards
Dated: December 26, 2006
Your Excellency
The President of the Federal Republic of Nigeria
Sir: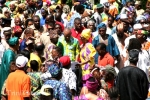 I e-mailed a Nigerian friend the article from the New York Times this morning, with a brief comment, "O God, Again?"
Again, because I am tired of seeing articles about a ruptured pipeline, with people stealing gasoline, which explodes and kills them. Another few hundred are dead, in Africa's most populous country. Maybe that is less than the children who will die of AIDS related diseases today, scattered across the continent. Maybe that number, two hundred and sixty and still counting, may have starved to death by the time I am finished typing this letter, and so, maybe, that is a small number. None of the people to whom I sent the article, however, thought that two hundred and sixty city dwellers in Lagos were so dispensable that they behaved as if these people were not to be missed. The sounds of the mothers wailing because their children have died, the sounds of the girl looking for her brother, and getting only the ring tones of his phone, would not go out of my ears.

I am writing to you as a diaspora African, whose country, Trinidad and Tobago, is also an oil producing country. It is a historical fact that we were in the oil business in 1900. There have been a few blowouts in the oil sector, some of which polluted the air and fouled the water. There have been a few disasters over time. There has not been any mass killing of people by ruptured pipelines, ruptured deliberately by some poor soul looking to make a living, in my entire memory. My grandfather worked in the oilfields, and I grew up near them. I am now almost an old woman. People in Trinidad and Tobago do not rupture gas lines to steal gasoline. We like to think we are poor, but there is no one on this island who cannot buy some kerosene or gas.
If there was gasoline leaking somewhere, my people, Trinis, would be running like hell in the opposite direction, not throwing gas on police officers to keep them from chasing people away. What value, then, does human life have in situations like this in Nigeria? Why are my people there behaving like this??
These actions, described in the New York Times, are the actions of desperate people, desperately poor people, who put their safety last; people who are concerned with making a living, and who die as a result. Three sets of mass deaths in a short space of nine years is too much for any country. Too much for the most populous country in Africa, too much for the country Africans everywhere look towards to provide a leadership model out of the morass of poverty, despair, and desolation that has been Africa as portrayed in the western media.
This leadership forward almost died under the Abacha regime. When I communicated the news of his death to a Calabari friend of mine, he did a dance of joy, he really did. So much was his hope for the future. That hope has died. The lot of the poor Nigerian has not changed at all, or maybe the change is so miniscule as to be imperceptible. Yet the rich ones travel around in entourages and live like kings, while the poor get ground into the dirt, and die in massive fireballs as if they were being bombed buy an outside force. They are being bombed by poverty.
The critical issues facing the country have apparently not been dealt with at all. I read of the corruption trials, of the arrest of the Chief Of Police, of the arrest of certain high public officials, but the lot of the poor, despite the oil wealth that is available for so many to loot, has remained pretty abysmal. I cannot understand, why, in this day and age, there is no universal free education in Nigeria. Individuals with the means to do so, can send their children to Oxford, the London School of Economics and MIT, but many poor children do not get to go to school at all. Where would you have been, Sir, if your parents did not send you to school?
Our great leader Eric Eustace Williams, of blessed memory, understood at Independence that education was the key to putting our colonial past behind us. He opened up opportunities for every child, despite stiff resistance from church groups. Every child in Trinidad and Tobago gets a chance to go to school, although some are still exploited by their parents as small vendors of nuts and vegetables. They can go to school. When will Nigeria achieve full free elementary education? When will it achieve universal health care, especially infant and maternal health? When these basics are not in place: a supply of potable water available to the majority of the population, health care for all, universal elementary and secondary education, a country is poor despite its oil or other mineral wealth.
In such poor countries, people risk their lives stealing gasoline from pipelines, and death rains upon them, making their poor bodies unrecognizable in the roasting heat. Now Angola, Ghana and Gabon have oil installations also. My cousin went to Gabon to set up an accounting system for Amoco in the early eighties, so I know they have oil and gas. In how many of these other western African nations do people resort to illegally opening the pipelines to steal some gasoline to sell or for domestic use? If the answer, as I suspect, is none, then one must ask why are they doing it in Nigeria? Are the pipelines easier to tap in your country? Or are the people more desperate there? And what I pray you Sir, is the good of producing more than one million barrels per day for export, if the people are so poor and desperate that they would risk death for one litre of the stuff?
I am not asking about regional issues. I am asking why the people of the country as a whole seem so deathly poor that they court death in bizarre ways in order to make ends meet. When Africans gather at my house, from four or five different areas, we lament the sadness of the past due to enslavement and division among our peoples. We also lament the apparent uncaring attitude of the mighty and the powerful in Africa, the elected leaders, who seem unable to grasp that a free country with tremendous resources, needs to keep some of those resources at home to uplift the people. If this is not happening, if the yoke of the metropole is still so heavy on the necks of our people that the wealth of the country is not transferable into jobs, health care, education and housing for the poor, but must be exported to fuel the lifestyles of those "abroad"; and the money so derived being used to line the pockets of "them that already have", then it is as if we are still living with the twin yokes of colonialism and slavery on our necks while masquerading as free people.
Now they are many in my country of birth, Trinidad and Tobago; my country of adoption, the USA; and your country, as well as people in other places; who will attempt to use this to embarrass you. Believe me, Sir, that is not my intent. I took a vow of poverty fifty-one years ago when my parent decided that I was to be a teacher. I have never left that job. Where ever I have been, I have seen my role as uplifting the poor through education; and I lament the fact that that commitment to making life better for the underdog is apparently not part of the plan of many leaders, including that of the country I have adopted. We Africans, however, are called to be different. You had a job to do as President. Are there more children in school now than when you took over? Are there more jobs created for Nigerians, the ones at the level of stealing leaking gasoline, than before you took over? I know a lot of people have gotten wealthier, but has the lot of the poor improved?
When the elections are over in May, what will be the legacy, and the path left to be followed by the new President? It is the role of a leader to give the people hope. Hopelessness does not make for a secure future for a country where half the population is under sixteen. Without hope, we die. Those who died in this third explosion would not have died in vain if the leaders of Nigeria learn something from their deaths; that would lead to a better distribution of opportunities.
Your sincerely,
Linda E. Edwards