By Linda E. Edwards
December 29, 2006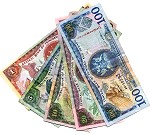 As the year 2006 draws to a close, some people have made a lot of money in Trinidad and Tobago, and some have become distinctly poorer as the cost of living soars to the sky. Money is flowing in the land, it seems, but it is not circulating. The flow is in one direction, from the pockets of wage earners to the pockets and bank accounts of "businessmen". Many businessmen seem to give nothing back.

Here are some resolutions that businessmen can make that could ease the strain on poor people, and make for a kinder land of the Trinity.
Resolve to pay a living wage. Spend some imaginary time trying to live on what you pay your clerks and other lowly staff. How would you manage? They cannot manage either. Better yet, let your bright son or daughter who is doing so well in high school use the weekly wage of an employee to budget for a family of three for a week. Let them go to the supermarket, the market, and pay full price for everything, and see where that wage would get them.
When you contract to pay employees weekly, pay them at the end of the week. If you are a builder or contractor, the law should require you to have more than one week's wages for employees in your bank account. I know you think that if you pay them early on Friday, they will stop work for the week, but paying them late in the evening, too late to get something decent to cook on payday, is hardly likely to create loyal and loving employees. Some of you do not pay them for weeks on end.
Do not allow payday to pass and then tell your staff that you can't make it today. They could kill you in rage. Many walk off the job, and so are never paid. The unpaid wages of such people, if gathered together would amount to millions.
Create a safe workplace for your staff. If they are required to climb up on scaffolding multiple stories, ask yourself if you will let your teenage son, or your beloved wife climb up there. Those employees who could be left dangling eight, ten storeys up, or make spectacular crashes to the ground, are people with families.
Do not do like the restaurant owner in Grande who hired a young man because he knew the restaurant and bar business, he had a barman's license, to help set up the business. As soon as the employee got the bar set up, and the "Formal Opening" was over, and the representative for the area had visited and seen the mixed staff that were hired, the young man was terminated. He had served his purpose. His final paycheck was not paid either. Such action builds animosity that cannot be washed away. It leaves bad karma behind. Now that restaurant owner has to watch his back, constantly.
Employees who help the company to make excess profits deserve a profit sharing bonus, as well as a decent salary. If the company can make a profit from the sale or processing of ten widgets (widget being whatever your end product is), you can motivate your employees to further productivity by letting them know that they will get a share of every one produced beyond the ten. Let them help keep track of this. Employees work best when a relationship of trust exists between staff, management and owner.
Provide adequate child care for your employees children. Women who are worried about the welfare of their children are not likely to stay focused on your work. Single men with no children do not need it. Single women with children do. Child care could be offered as part of a choice of benefits. Single women with children are more motivated to work, but their children need to be safe. The old civil service model of "leave your problems at home" went out the window a long time ago. An employee, a manager, an owner, is a Human. Their problems go with them. This is an area where businesses located close to each other can co-operate to help employees and help productivity. (See explanation of "the Triangle" below.
Provide a decent place where your employees can eat lunch, and use a restroom. Let your wife visit, and see if she is comfortable using that restroom. This is one of the most appalling aspects of working in TnT, the conditions under which employees eat, wash up, and relieve themselves.
Give small monetary rewards to the children of employees who do well in school. Report cards have to be produced to get the reward. The public relations section of your HR department could handle this. Remember, a box of crayons in TnT is $8.00. A toy at Christmas is not it. Extra notebooks, drawing paper and crayons, a new school bag, these show an interest in Education For Tomorrow's Work Force.
Once, employees had no idea where or how employers lived. Modern media has changed that. An employee who is paid a pittance, and sees his employer's son driving a fancy toy car, while his own children are confined to one meal a day, begins to think murderous thoughts. The slightest thing could set him off. People today are more aware of the inter-twinings of life and people meet each other in unexpected places. Treat each employee with respect. Your employee is neither a pet nor a stray mongrel. Do not curse an employee. Do not exploit the sexual vulnerability of young ladies looking for work. Its nice to have pretty faces working for you, but her physical or mental labour is what you hired. Her sexual self is for others.
This was part of the testimony of the Eric Williams Commission looking into the garment factories about forty-five years ago. You would think that is a thing of the past…think again.
The trouble with businessmen may well be that they do not travel in maxis or other taxis, or even the bus. They never really know what the people are saying. They are surrounded by sycophants; who tell the Emperror that his new clothes are beautiful, while his naked butt is exposed to the four winds.
The Triangle: I use this image to show the path that working women travel to and from work. She leaves home, drops her child to day-care or preschool, or even big school, then goes to work. Home, drop-off and workplace are the points of the triangle. After work, she makes a reverse trip – office to child-pick-up place, then home. She does this five days a week. She may leave work early to "beat the traffic" and arrive late some mornings because of traffic and the inability to wake up a disgruntled sleepy child and get it off to the day-care. She may take days off because the child is sick, and the sitter will not have him infect other children.
Now, if the day-care facility was located near or in the building where she works, she could check on that child during her lunch, or break, and be more comfortable and assured that her child is getting quality care. She would be earlier to work, and could work later because she could get the child and return for an extra hour (If she is NOT working on a factory floor, that is.)
All of this sounds expensive, but makes for greater productivity.
Businessmen interested in making a difference socially, could do these things.
If all you want is to continue to exploit Trinidad and Tobago, you have wasted time reading this. Time is money, so get going. Those who do read, and think on this, and try even one idea, would be on their way to making the country a better place for all to live.
Disclaimer: I have no children, nor grandchildren, who would benefit from such child caring attitudes.
Breaking the cycle of poverty is not something the Government alone can do. It's every business-person's business; so is the fight against crime the whole nation's business.