By Maseeh Rahman, The Guardian UK
December 28, 2006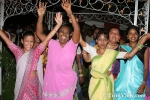 Indian prime minister Manmohan Singh became the first leader of his country yesterday to compare the condition of low-caste Hindus with that of black South Africans under apartheid.
Mr Singh drew the parallel at a conference in New Delhi on social and caste injustices saying it was modern India's failure that millions of Dalits (meaning "oppressed") were still fighting prejudice.

"Even after 60 years of constitutional and legal protection and support, there is still social discrimination against Dalits in many parts of our country," Mr Singh said.
"Dalits have faced a unique discrimination in our society that is fundamentally different from the problems of minority groups in general. The only parallel to the practice of untouchability was apartheid."
By raising the spectre of apartheid the prime minister has publicly repudiated the stand taken by the previous BJP-led government.
Full Article : guardian.co.uk