Newsday Editorial
August 13, 2009 – newsday.co.tt
www.trinidadandtobagonews.com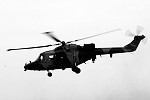 The first deal under consideration began back in November 2005. Prime Minister Patrick Manning, on a visit to Israel, announced that he had met with Israeli Prime Minister Ariel Sharon and had discussed the issue of crime with his host. Then, in a television interview, Mr Manning stated that the talks with the Israelis might include the acquisition of four armed helicopters as well as patrol boats. He said that the Israeli Air Force used armed helicopters and he had initiated discussion to "effect a transfer".

In early January 2006, Newsday published a letter from Garvin Nicholas, Head of the Movement for National Development Party, claiming that Cabinet had approved the purchase of combat helicopters from Israel, for National Security purposes. In response to questions from the media immediately following Mr Nicholas' letter, both National Security Minister Martin Joseph and Public Administration Minister Lenny Saith refused to comment on the issue. Both made comments to the effect that discussions at Cabinet meetings were "secret".
Strangely, following the Cabinet meeting in question, no post-Cabinet media briefing was held. The local media was left to speculate on the issue, and our research identified the types of "armed" helicopters which were being used by the Israeli Air Force. No one would state whether the helicopters had been discussed, or if any decision had been taken. Significantly, no one denied that the matter had been before cabinet.
Then on January 5 2006, the Prime Minister denied that "attack helicopters" were being considered. He went on to say that Government would buy four "armed helicopters", which Manning also referred to as "civilian ones" and would cost about one-tenth of the US$60 million that the Apache AH-64 "attack" units would cost. These "armed" as opposed to "attack" helicopters would be used by the police for crime fighting, and "against boats which travel at high speed and are difficult to reach at the surface".
Then the matter, like so many Government plans and initiatives, simply faded into oblivion.
Until last week! That is when it was learned, and not through any Cabinet or Government release, that a contract had been signed with an Anglo-Italian firm, Augusta-Westland, to supply four special purpose helicopters. And where did this news come from? It came as a public relations announcement from Augusta-Westland which now held the contract to supply Trinidad and Tobago with these helicopters.
This paper, in our editorial on Saturday, August 8, raised questions about the tendering procedure for the Augusta-Westland helicopters, and other announced procurements. The four Italian helicopters, albeit with a training and service input, will cost in excess of $2 Billion. Given that the Israeli "civilian ones" were going to cost about US$ 6 Million each, some explanation is now due. The four Israeli units would have cost the taxpayer $ 151 Million. The four Augusta units are going to cost $2.1 Billion! Something is very wrong here. The Prime Minister must explain what happened to the deal he was pursuing in January 2006 for four helicopters which he declared then were eminently suited to the task at hand. What has changed since then? Did the Israelis ever tender, and what ever happened to their tender?
And up to now, the only official announcement about the Italian contract has come from the supplier. Are we, the purchasers, not entitled to some explanation?
http://www.newsday.co.tt/editorial/0,105429.html
Trinidad and Tobago News Blog – URL for this article:
www.trinidadandtobagonews.com/blog/?p=1366