By Dr Selwyn R. Cudjoe
January 21, 2020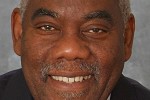 Last Sunday Jeralean John, one of the most dynamic persons to enter the political arena in the last year, invited me to visit Savannah Park, Waller Field, or what is known as "Gaza." I eagerly accepted the invitation, excited at the possibility of hearing what ordinary people—although people are never ordinary—had to say about the conditions under which they live.

Within two hours the story was trending on social media. Ken Ali, a radio announcer, asked why I was in Savannah Park. I explained: "Jearlean is a friend. More importantly, politics is about people. If you want to know what is happening in the political arena, you have to listen to what people say."
At noon I saw a post by Fitzgerald Hinds, a deputy political leader of the PNM (People's National Movement). It read: "Could someone ask Selwyn Cudjoe if he is no longer a supporter of the PNM. And, if so, when exactly did he stop? And why?
"Mind you I eh 'fraid none of dem politically. Whether individually or collectively because God has a great plan for Trinidad and Tobago! Also because, I have faith in the decent, right thinking vast majority of you, the people of Trinidad and Tobago to act in her best interest. Ah jus asking."
First, I am a member of the PNM. On March 18, 2018, I wrote: "I do not feel compelled to support PNM 'till a dead, if, in my considered judgment, it does not live up to the promises it made…in 2015 and if the country continues to be an unsafe place to live" (Express).
I have not changed that position. On Thursday three teenagers were gunned down in the area I visited (Express, January 16).
Second, I do not engage in pugilistic affairs. I express myself on issues and visit any part of the country I choose to. The "Bad John" discourse of who 'fraid who and who eh 'fraid who, is antithetical to my status as a scholar and an intellectual. Hinds should check himself.
Third. Money was never the overriding consideration in PNM. I always thought, and still believe, that honesty, knowledge, intellect and judgment are important virtues of a party member. "Education in public affairs" is a guiding principle of the movement to which I belong.
Eric Williams and C. L. R. James, founding fathers of the PNM, died financially broke and alone in Port of Spain and London respectively. When James left PNM he published "PNM Go Forth." It was an intellectual response to a thorny political problem.
Fourth. I have known Hinds for years. If he has any respect for me or my principles, he should have called (or emailed) me and said, "Brother, I have been hearing or seeing disturbing things. Could we have a discussion on same?"
You do not ask anyone to enter into a public debate with you on such a matter on social media.
Fifth. I don't know who told Hinds that "God has a great plan for Trinidad and Tobago." It is the first sign of madness when one believes God is speaking to him directly or through intermediaries. When Patrick Manning believed that God spoke to him directly and/or through intermediaries, his political demise began.
Sixth. Having faith in T&T people to do "the decent right thing" is not necessarily analogous to their voting for PNM. And why is it "the decent right thing" to vote for the PNM and not the UNC or MSJ?"
One hopes that Hinds can convince citizens that voting for the PNM is in their best interest. However, voting for the PNM does not necessarily equate with acting in T&T's best interest.
Seven. I have supported PNM since Learie Nicholas Constantine defeated Surujpat "Pat" Mathura (PDP) and Rattan Kumar Harracksingh (Butler Party) in the 1956 General Election. I have voted PNM since the 1960s.
Eight. In 2010 I was on the PNM's Constituency Committee to elect Esther Le Gendre for the Tunapuna seat. I brought Eddie Hart and Le Gendre together on the platform. When Le Gendre cancelled two scheduled appointments with me I abstained from voting and made it known publicly that I would not vote for anyone who is supposed to represent me but refuses to see me.
Representation is not a personal favor one does to another. It's a political responsibility one has to one's constituents. Anyone whose duty it is to represent my views at the national parliament and refuses to listen to my concerns is not fit to represent me.
Ninth. The national election is ten months away. Party leaders should be doing everything to consolidate the party's base and respect the views of its members rather than alienating them. It's foolhardy to take a constituent to court because he splashes some water on you. It should be taken as a benediction rather than a curse.
Alexander Pope had it right: "To err is human; to forgive divine."
Ten. Since Hinds is a member of the Rastafarian faith, I will share with him a bit of advice from the wisdom of Bob Marley, one of our prophets: "Is a foolish dog bark at a flying bird! / One sheep must learn, children! / To respect the shepherd!" ("Jah Lives")
Since Hinds knows what God has in store for us, I would remind him of what Matthew, Jesus's disciple, wrote: "But I say unto you, that whosoever is angry with his brother without a cause shall be in danger of judgment."
Hinds's judgment might occur sooner than he thinks.
He who forsakes his brothers and sisters might be, in turn, forsaken by them. That's called divine justice.