By Raffique Shah
January 8, 2020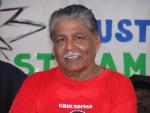 No major infrastructural project exposes the huge, costly gap, both in time and money, between the decision to undertake critical public works projects and their implementation and delivery to the populace than the extension of the Solomon Hochoy Highway from San Fernando to Point Fortin.

This relatively simple roads-and-bridges construction, variously estimated at between 40 and 47 kilometres, and set to cost taxpayers approximately $8 billion, was in its preliminary stages when Patrick Manning was Prime Minister (2007-2010). Design works were completed and Brazil's Construtora OAS was said to have been named as the preferred bidder although no contract had been awarded or physical works started.
Construction got underway during Kamla Persad-Bissessar's stewardship, with OAS selected as the sole contractor, and its completion scheduled for well before the People's Partnership's term of office expired in 2015. It was hailed as the flagship project of the PP. Sections of the designs were altered to accommodate Debe and surrounding districts that are considered solid United National Congress support-bases. Those changes in the route ignited strong protests from environmental activists led by Wayne Kublalsingh.
The protestors objected to the re-routing of the Debe to Mon Desir section of the highway, claiming that such works would negatively impact the Oropouche wetlands that are vital to the environment of a huge part of southwest Trinidad. Street protests and court battles ensued, and by the time the PP/UNC was voted out of office in 2015, the project was a mess of mud, ugly craters, rusting steel, abandoned equipment and site offices.
l shall not delve into the allegations of wanton corruption that haunt the recently-restarted project. Those are matters for the police and the courts to deal with. I am focusing here on how this cantankerous nation can, and so often does, take what should be a simple problem, complicate (I almost wrote "constipate") it with an overdose of politics of the nastiest nature, and end up not just looking like fools, but being fools of the first order.
During the 15 years or so that we wasted quarreling over a much-needed, quite simple four-lane highway that will make life easier for people who live or work in the highly-industrialised southwest quadrant of the island, China put us to shame twice. In February 2005, it started construction of what was then the world's longest bridge over the sea—26.4 miles. It was completed and opened by December 2011. It links the eastern port city of Quingdao with an island 18 miles away. The well-constructed, six-lane feat of sophisticated engineering currently caters for daily traffic of an estimated 300,000 vehicles, a number that will grow as the industries and residents in the environs expand.
So the project caters for future development, not just current challenges.
And as if the Chinese knew of our petty Point Fortin road woes, in 2018 they went farther—opening a 34-mile, cross-ocean bridge that links Hong Kong and Macau with mainland China. According to a BBC news report in October, 2018, when President Xi Jinping officially opened it, the structure had taken an unusually long nine years to be completed, and cost an estimated US $11 billion. "About 30km of its total length crosses the sea of the Pearl River delta. To allow ships through, a 6.7km section in the middle dips into an undersea tunnel that runs between two artificial islands."
Now, I am aware that I am making comparisons here that are unfair to Trinidad and Tobago, given our miniscule size and economy to China's. But it is also true that the level of engineering and other skills-set harnessed, not to add manpower, equipment and materials required for our highway project are Lilliputian when compared with what China will have utilised on these futuristic feats.
In other words, we have no excuses for our two-by-two highway extension dragging on for as long as it has, none whatsoever. Now that the project has been broken up into several "packages" and farmed out to a number of reputable local contractors, maybe motorists will soon enjoy rather than endure the drive to La Brea, Point Fortin, Siparia, Palo Seco and other deep-south destinations.
Still, I find it is criminal for three successive governments to subject citizens to such inordinate time- and cost-overruns on just about every public works project government undertakes. How long has the Red House been under renovation? It seems like forever. In fact, with its reoccupation underway, and Parliament preparing to return to its purpose-built home, many citizens are monitoring the move nervously, wondering if something will go wrong as happens all too often in this country.
As we aim to achieve developed-country status, much like China is doing—oh yes, China will soon overtake the USA as the world's biggest economy, but its gloss does not conceal huge swathes of abject poverty, or the reality that standards of living lag way behind Europe's, North America's, Japan's, Australia and a few others—it's the simple things that are doable, which we ignore, that keep us branded with the Third World stamp.
I am on the road infrequently nowadays, what with my impediments. But on one foray recently, I could not help but note miles of unsightly, tangled webs of utility wires and cables, almost all of which are no longer in use (besides four electricity conductors, there ought to be no more than three fibre-optic cables). But no one has even thought of ordering the offending companies to remove the dead lines or face penalties.
Potholes, which T&T seems to have trade-marked with pride, scar an otherwise decent network of paved roads. And we still need some rocket scientist to invent immovable manhole covers to make our pavements look like sidewalks, not death-traps.
Look, we don't need to build a bridge between Toco and Tobago to compete with China or move up the global look-good, feel-good ladder. Simple things can take us there, if only we take pride in ourselves, in our country. Is that asking for too much?