By Dr Selwyn R. Cudjoe
December 16, 2019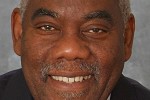 ON THURSDAY I read Jovanne Edmund's protest against Junia Regrello being reappointed as the mayor of San Fernando.
A day earlier I had seen a video in which Edmund had made a similar plea as she protested in front of San Fernando City Hall. Her gripe, according to Newsday, was that Regrello's son worked for the San Fernando Corporation. Her rationale was as follows: 'Nobody would kill you to say your son working in the corporation… Come out plain and say so. The same way your son could eat a food, other people could eat a food too' (Newsday, December 12).

Edmund declaims: 'I was born a PNM and I will die a PNM.' Some people detected a bit of deception in her declaration. It was revealed that Edmund had taken a photograph in a UNC jersey with Sachin Maharaj, the defeated candidate for Les Efforts East/Cipero electoral district in which she lives. Edmund had a theological response to unbelievers: 'God says render your heart, not your garment.'
She also highlighted the political incompetence of Regrello and Faris Al-Rawi: 'They are focusing me (sic) on this yellow jersey and not on the three seats they lost under Regrello and Faris Al-Rawi reign.'
One may think that Edmund suffered a bout of paranoia but she possesses an acute polemical sense. Her flair for polemics came through when I saw the video of Edmund's protest. Although there were only a few supporters around her, she made three important observations.
First. 'We need to give someone else a chance. There is young vibrant blood in the arms of the PNM that they (the party) can give that crown to, to carry it (the mayoralty) on.
Second. She queried: 'I would like Mr Regrello, Mr Rowley, or someone else at City Hall in authority to answer this question: why have a lot of female workers in the administration department of the city corporation lost their jobs? Is it because they are not performing other personal duties?'
Third. She pleaded: 'San Fernando West get back to the grassroots of your people. The people have worked hard for it (that is, placed PNM in a position of political authority). We need a change. (We need) young, vibrant blood. Give it (the mayoralty) to someone else who will make a difference and a fruitful contribution.'
Finland inaugurated 34-year-old Sanna Marin, the world's youngest serving prime minister, to head its left-wing coalition government a day after Edmund made her plea.
Analyst Richard Milne noted: 'Marin may not remain the world's youngest government chief for long: Sebastian Kurz, who became Austrian chancellor at 31 in 2017, is leading talks to form a new government in Vienna. Other heads of state in their thirties include Jacinda Ardern, 39, who became New Zealand premier two years ago' ( Financial Times, December 10).
Thirty-seven-year-old Pete Buttigieg is now leading the Democratic Party candidates who are vying to become the Democratic nominee to challenge Donald Trump for the US presidency. He has been the mayor of South Bend, Indiana, since 2011. Who knows what his fate will be?
Edmund also called upon the Prime Minister and Regrello to answer what seems to be allegations of abuse of women who were/are working in the San Fernando City Corporation. What else could she mean when she claims that women are being victimised (and even fired) because they do not perform 'other personal duties'?
Such an allegation takes us to the #MeToo movement that addresses the pervasive sexual abuse against women, particularly in the workplace. It may surprise some people that the #MeToo movement was founded in 2006 by Tarana Burke, a black woman from the Bronx, who was not taken seriously when she began to raise her concerns about the sexual abuse of women.
We ought to listen to what Burke says about sexual violence and see if any of the following sentiments occur in Edmund's charges: 'You don't have to be a Harvey Weinstein in order to make someone uncomfortable and wield your power in ways that make one feel powerless…
'Sexual violence happens on spectrum — everything from someone making you uncomfortable to an environment that is unworkable or unlivable to actual physical violence-because if that is the truth, then accountability has to happen on a spectrum' ( Vox, November 2019).
Who would want to challenge Edmund when she says that San Fernando West (and the other PNM constituencies) must get back in touch with its grassroots supporters if it wishes to be successful in next year's general election? Edmund suggests that the grassroots have worked hard to make PNM what it is. The rich and privileged cannot throw away that legacy for which so many people have worked. I have sounded that alarm for the last four years.
It has been said that not because one is paranoid or is perceived to be paranoid means that one is stupid or out of step with one's time. Paranoia suggests a mental condition that may be characterised by delusions of persecution or an exaggerated sense of self-importance. Sometimes that condition allows one to see what others cannot see or go where others are afraid to go.
Edmund is asking the party to re-examine itself if it wishes to make a difference in the 2020 elections.
They may dismiss her concerns at their peril. Interestingly enough, Regrello did not attend the swearing- in ceremony at San Fernando City Corporation on Thursday but by yesterday he was in the running again.