By Raffique Shah
September 09, 2019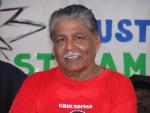 What possessed United National Congress leader Kamla Persad-Bissessar to unleash a loose cannon in the form of ex-soldier Carlton Dennie on an unsuspecting audience of party faithful a few Monday nights ago, we may never know.
Surely she could not have known beforehand that the corporal, who had somehow been elevated to head the intelligence arm of the Strategic Services Agency, was about to cast a giant-but-crooked shadow over her beleaguered UNC that seems to be locked in battle with the incumbent People's National Movement to lose the next general election.

If she did know that his intention was to tell tall and damaging lies that would boomerang and hurt her party more severely than Vermella Alleyne-Toppin's sordid sex-and-lies tales back in 2015 on the eve of election, then the lady must be a masochist of Marquis de Sade proportions.
In fact, if it turns out she had prior knowledge of Dennie's devilish plot to paint Prime Minister Dr Keith Rowley as a rabid racist, and further, that it would backfire against the UNC, then party members and supporters should consider charging her with high treason, to wit, plotting to sabotage her own party.
Anyone with a modicum of common sense, not to add legal training and self-draped silk, will have told Dennie, on hearing his tall tale about Rowley ordering him "to fire all Indians in the SSA", that he was spewing untreated sewage. Unless the seemingly unintelligent ex-intelligence chief had recorded evidence to support his outrageous allegations, he would embarrass the UNC if not himself when the PM sought to clear his name, as was to be expected.
In other words, Kamla should have chased Dennie from the UNC meeting rather than embrace him and give him platform space and prime time to talk "tatah".
But groping for anything that could give her an edge to win another term of office as prime minister, she swallowed the lie, unmindful of my amendment to celebrated English man of letters Samuel Johnson's dictum of 1775, "race is the last refuge of a scoundrel".
Within hours of making his highly seditious statements, the targets he had sprayed with rubber bullets returned fire with heavy artillery, branding the corporal a "pathological liar". The Express banner headline the following day, "Liar, Liar", summed up what most people will have felt about the spurious allegations. Just when Dennie thought he had sealed a safe UNC seat for himself in the next general election, he was instead skating on his backside.
He hurriedly distanced himself from his own statements, saying that he had never received the "fire all Indians" directives from PM Rowley or one-time national security minister General Edmund Dillon. Having thumped his chest in front of a cheering partisan crowd, and crowed about standing up to the powerful duo, he changed his tune and beat, tucked his tail between his legs, and fired a few pellets from his rear at his ex-boss, Matthew Andrews, who also denied the race-charges, and has threatened to sue him for defamation.
Indeed, all three accused pointed out that the ex-corporal never had the authority to hire or fire any SSA personnel. Further, they accused Dennie of having committed breaches of his terms of employment, hence his termination from the job.
Now, most people who followed Dennie's 48-hour saga, his obvious craving for the limelight that backfired almost before he squeezed the trigger, will have dismissed the episode as a Kamla misadventure, yet another attempt by her to inject race into the elections campaigns that will intensify over the next 18 months of campaigning.
Having lost traction in a war in which she made a strategic error of subjecting her troops to battle fatigue from Monday night meetings that have grown stale, she is clutching at straws in a bid to remain relevant. Meanwhile, for all its trumpeting of having stabilised the economy and managed the country's affairs prudently, the PNM remains very vulnerable since such achievements are intangibles.
What citizens see are miles of pot-holed roads, thousands of dry taps (matters not that there is little rain to replenish the reservoirs), an expanding army of unemployed workers, and most of all a feeling of stagnation. Nothing seems to be happening by way of governance.
In such a bleak political landscape, neither the PNM nor the UNC is seen as a first choice. They are both hanging in there hoping that no mass movement materialises to sweep them aside the way the National Alliance for Reconstruction did in the 1986 general election. Thus far, both main parties have held on to their core supporters and hope the swing voters in the marginal constituencies will take them into office.
But a few more Dennies on Kamla's platforms will damage the UNC's already sullied image beyond repair. In fact, as unintelligent as corporal Carlton may appear to be, what is to say he might not be an agent provocateur planted in the opposition party to play the race card in such manner that it erodes some of the party's existing base ?
The swing voters, who are seen as intelligent persons, not blind party fanatics, are turned off by "race" more than any other factor.
If I were in the shoes of UNC strategists, I would put Dennie under the microscope. I would invoke the wisdom of another fabled man of letters, Aesop, using Agouti's famous line (before he lost his tail): "There is a traitor on board! Examine the horns!"