By Dr Selwyn R. Cudjoe
June 12, 2019
"If there is a miracle in the idea of life, it is this: that we are able to exist for a time, in defiance of chaos."

—Binyavanga Wainaina, One Day I Will Write About This Place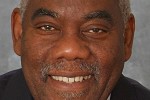 Few people in Trinidad and Tobago may have heard the name Binyavanga Wainaina, the Kenyan writer and activist, who died on May 29 at the age of 48. He was one of the most prominent international writers of his time who "above all, sought the truth of complexity" (Financial Times, June 1). In 2014, Time Magazine named him one of the "100 most influential people in the world."

Wainaina who revolutionized the English language in the service of African literature won the Caine Prize for African Writing. In 2002 "Discovering Home" was named the best English-language short story by an African writer that year. He used his prize money to found Kwani?< /em> (which means "So What?"), a literary magazine that created a space for new African writers.
Disgusted by how Western publications depicted (and still depict) Africans, Wainaina sent off an email to Granta, one of the most important literary magazines in the Western world. In 2005, Granta published this essay as "How to Write About Africa." It became the most-forwarded story in Granta history.
He counseled sarcastically. When writing about Africa, "Always use the word 'Africa,' or 'Darkness,' or 'Safari' in your title….Never have a picture of a well-adjusted African on the cover of your book, or in it, unless that African has won a Nobel Prize. An AK-47, prominent ribs, naked breasts: use these….
"Make sure you show how Africans have music and rhythm deep in their souls, and eat things no other human eats…Do not mention rice and beef and wheat; monkey-brain is an African's cuisine of choice."
Wainaina struggled with his sexuality. Africa is one of the most homophobic societies in the world, Kenya being the most repressive of them all. In November 2010, Kenyan Prime Minister Raila Obinga described gay people's behavior as being "unnatural." He asserted: "There is no need for homosexual relationships because there are too many women in the country." In 2011, the United Nations Human Rights Committee commented: "Homosexuality is largely considered to be taboo and repugnant to the cultural values and morality" of Kenya.
In 2014, Wainaina came out as a gay man with an essay, "I Am a Homosexual, Mum" in which he imagined telling his late mother, on her deathbed, that he was gay. The courage of his declaration is mind chilling and bone bending: "Hey mum. I was putting my head on her shoulder, that last afternoon before she died. She was lying on her hospital bed. Kenyatta. Intensive Care. Critical Care….
"I have never thrown my heart at you mum. You have never asked me to."
"Only my mind says. This. Not my mouth. But surely the jerk of my breath and heart, there next to hers, has been registered? Is she letting me in?"
"Nobody, nobody, ever in my life has heard this. Never, mum. I did not trust you, mum. And. I. Pulled air hard and balled it down into my navel, and let it out slow and firm, clean and without bumps out of my mouth, loud and clear over a shoulder, into her ear."
"I am a homosexual, mum."
Wainaina's declaration was no small feat for a person from Kenya, where same-sex relationships are illegal. Wainaina worked arduously to advance the fight for LGBTQ rights in Africa. This was not an easy task in a society which claims that homosexuality is not a part of African life and homosexuals do not exist in that part of the world.
In 2016, on World AIDS Day, Wainaina announced on Twitter that he was H. I.V positive—"and happy." Last year, he proposed to his partner and announced: "I am beside myself with excitement that he has agreed to spend the rest of his life with me" (New York Times). The couple was scheduled to be married this year.
He declared last year: "I do not fear death anymore. I just have one thing to do [marry] this year. If I die anytime after that is okay. I have already reconciled myself with that. I would like to live a long life after I do what I need to do this year….Celebrate my life! Do not mourn me."
After his death, the public acclamation of Wainaina's life and work came from all parts of the world. Chimamanda Ngozi Adichie, the Nigerian writer with whom he corresponded and shared his early work, wrote: "By publicly and courageously declaring that he is a gay African, Binyavanga has demystified and humanized homosexuality and begun a necessary conversation that can no longer be about the 'faceless other.'"
Ellah Wakatama Allfrey, chairperson of the Caine Prize, wrote: "Binyavanga was unbound in his imagining—reminding us with art and characteristic playfulness, what English can look like when it's an African language. Unflagging in his generosity, unflinching and direct in his criticism, he produced work in his short life that will have impact longer lasting than those whose time here is twice as long." He gave wings "to a generation of writers."
On May 24, three days after Wainaina died, the High Court of Kenya upheld the illegality of homosexuality and reiterated its ban of same-sex marriages. It represented a backward repudiation of Wainaina's life that he encapsulated in his memoir One Day I Will Write About This Place. He dedicated his memoir "To Mum in Heaven."
Professor Cudjoe's email address is scudjoe@wellesley.edu. He can be reached @ProfessorCudjoe.