…ex MP Collin Partap slams party
By Gail Alexander
May 06, 2019 – guardian.co.tt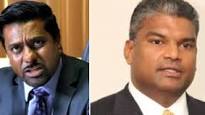 Corruption allegations put the People's Partnership (PP)/United National Congress (UNC) administration out of office in the 2010 general polls and more allegations or corruption-related charges against UNC members could well keep the UNC out of government in the 2020 general election.
It's not a PNMite saying that. It's former UNC Cumuto/Manzanilla MP and minister of state, Collin Partap doing so.

Partap, 46, an attorney, broke his silence on the party of which he's been a member since his teens—and he's not happy with the Opposition UNC's state, but has a positive view of the People's National Movement's (PNM) tenure.
Partap was removed by former prime minister Kamla Persad-Bissessar from his post as a minister in National Security in August 2012, after refusing to do a police breathalyser test. Officers said they saw him leaving Zen nightclub drinking from an alcohol bottle, he entered his SUV, turned on the flashing blue lights and left. When he was stopped, he refused the test.
Full Article : guardian.co.tt