By Raffique Shah
March 20, 2019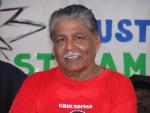 If you thought that Vernella Alleyne-Toppin had plumbed the depth of depravity when, in the run-up to the 2015 general election, the then Tobago East MP launched the most scurrilous, vulgar attack on People's National Movement leader Dr Keith Rowley, believe me, you haven't seen the nastiest political campaigning yet.
Alleyne-Toppin had been allowed by House Speaker Wade Mark all the time she needed to allege that Rowley was a biological product of rape, and that he, in turn, would later end up committing the heinous crime to father a son. The alleged victims openly denied Toppin's baseless charges, which were read into Hansard in the presence of her political leader, then Prime Minister Kamla Persad-Bissessar, and other People's Partnership parliamentary colleagues, none of whom intervened to stop the nastiness.

In fact, in their desperation to hold on to power, certain influential persons in the PP were believed to have been behind other allegations of sexual misconduct against Rowley in the months leading up to the general election. Those attacks, and a barrage of viscous Internet posts, failed the United National Congress. It lost the election.
Five years later, not having learnt any lessons from the failed scandal-mongering of 2015, activists from the UNC, probably with the consent of their leaders, have heightened their scurrilous social media attacks on the PNM in their bid to remove the party from power in the 2020 general election. Once more, they have resorted to obscenities and lies which do not influence the electors who matter most in modern T&T—the 50,000 or so informed voters, especially those who live in what are recognised as "marginal" constituencies.
Let's be realistic: unless something dramatic changes the political equation—a national upheaval, the emergence of a new messiah, total collapse of the country—the 2020 election will be a contest between the PNM and the UNC. Both parties control their core constituencies based largely on their racial compositions, although this applies more to the UNC than the PNM.
What's my rationale for making this statement? The PNM lost many of its East-West corridor constituencies in 1986 and 2010, but the UNC and its precursor parties never lost its Indo-dominated constituencies. When the latter went to the NAR in 1986, it was because Basdeo Panday had joined with Ray Robinson and Karl Hudson-Phillips to form the "party of parties". And Kamla's link-up with Winston Dookeran's Congress of the People, which had penetrated PNM constituencies in 2007, won over many of the "floating voters" who were, and continue to be supporters of whichever party they believe would deliver good governance.
I have elaborated on the dynamics of the critical, and more importantly increasing numbers of floating or independent electors to indicate to the ruling party, in this case the PNM, that it cannot hope to retain their support by election gimmicks (paving roads, distributing houses etc) or claims of good governance that are not supported by realities on the ground. These electors will not fall for false data that cannot be substantiated by documentation that can be easily obtained online.
More than under-performance when in office, these discerning electors detest corrupt, lying politicians who will plumb any depth to win their support. In this regard, they have not forgotten or forgiven the UNC for plundering the public purse after they gave the PP a resounding mandate in 2010. It matters not that only a few top officials are before the courts on related charges. The same is true of the PNM when it reigned supreme: there was widespread banditry, yet none of the bandits "make ah jail".
People are not blind or stupid: they see and know persons with political connections who live extravagantly, their wealth unexplained. Under the PP/UNC, a new term was coined: "box-drain millionaire". And everyone knew that these recipients of government-largesse, who could not mix concrete before they landed contracts, funneled 10 percent of their contract earnings to high officials in the regional corporations and/or central government.
But back to the present, to the 2020 general election campaign that has begun. It was no coincidence that Kamla recently opened a UNC all-in-one centre in Tunapuna. That lies in one of the "marginal" constituencies, and there the public can access medical, legal, educational and other services. Who is paying for all of that? I suppose she will say the providers are volunteers…yeah, right.
Meanwhile, the PNM government recently secured a US $200 million loan from a South American bank specifically for use in its road-building and repairs programme. Finance Minister Colm Imbert will deny this latest addition to our bulging national debt has nothing to do with elections. Again, yeah, right.
Speaking of debt, which I have learnt to fear at a personal level (one reason why I could never be a politician or entrepreneur), there's a raging row over which government got us knee-deep in debt—the PNM or the PP/UNC.
When Kamla won the election in 2010, net public sector debt stood at TT $51 billion. When she demitted office in 2015, it had increased to $76 billion. Bear in mind during her tenure WTI oil prices averaged US $79 per barrel to $98 (2013), and energy revenues were between a low of TT $20 billion in fiscal 2010/2011 to a high of $28 billion in 2013/2014.
The Rowley government has taken the debt to TT $96 billion and climbing, as it continues to borrow. In contrast, though, energy revenues fell to $8 billion in fiscal 2015/2016, and struggled slowly to $9 and $12 billion in the two ensuing fiscal years. In those years, too, WTI oil prices averaged (USD per barrel) $43, $51 and $65, while oil production declined from 80,000 barrels per day to 62,000 bpd.
Those are the stark numbers drawn from the Review of the Economy, an official Budget document. I leave readers to draw their conclusions.