By Raffique Shah
March 09, 2019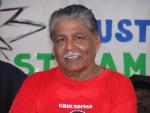 Having written last week that I did not see the successors to Sparrow and other icons in the pantheon of great calypsonians of Trinidad and Tobago, hence of the world, I think I must be man enough to apologise to the London family, three of whom won the four most prestigious calypso titles at stake this year.
Uncle Brian, who composed the winning songs for nephews Ronaldo and Rivaldo, beat a formidable field (Gypsy, Myron B, Black Sage) to take the ex-tempo crown convincingly, having failed on several previous occasions. Ever since his entry into the calypso arena sometime during the first decade of the Millennium, Brian has consistently maintained high standards as a composer and singer. He was selected for the monarch finals on five occasions (1st runner-up in 2010), and the ex-tempo finals more than that.

But his greater achievement, in my view, is having resisted the lure to enter the glitzy, more rewarding soca market, as so many of his contemporaries have done. He is far fitter than most performers (I first knew him as a marathoner), with a lithe frame that would make him a superb "winer boy", which is a prerequisite to success in that genre. However, his gift for writing poetic lyrics comparable with those of Winford Devine, Merchant, Gypsy, Stalin and other greats, would have gone to waste in a forum where inanity reigns supreme.
Imagine (the title of the winning song he wrote for nephew Ronaldo, who won the monarch competition last Thursday) being denied lyrics like these: "…Man start to imagine (imagine) all kinds of evil plans/against his fellow man/Man start to imagine he is a super power/Imagine, a next man land he must conquer/until he start to oppress man…" And: "…So man became man's worst enemy/fuel(led) by greed, hatred and envy/so then man by now began to lust/and man by now to man became unjust…"
Not Shakespeare. Not perfect. But deep introspection on man's fall from grace, his woes, a perception on how man has messed up the world. Penned by Uncle Brian, sung by nephew Ronaldo, age 21 (only Sparrow was younger when he won in 1956), to beat a field of older, more experienced bards in the competition. I should point out that what first piqued my interest this carnival season was 17 year-old Rivaldo who won the Junior Monarch title. I didn't know who he was. There was a video-clip on him singing his winning song, and he captivated me with lyrics, melody and a voice that is sure to propel him to stardom once he decides on pursuing at least a second career in calypso.
I deliberately used the term "second career" because striving to live comfortably as a calypsonian (as distinct from a soca artiste) must be a challenge, certainly in T&T, which may sound like a contradiction. I am sure professionals such as David Rudder, Crazy and Relator can better explain the point I'm trying to make, which I shall return to shortly.
Suffice it to say that only the brave among younger calypsonians will choose the art form as a career. Rivaldo London may well possess such talent and self-confidence, having beaten big brother Ronaldo back in 2013, when he will have been all of 11 years-young, in a South Junior competition. In fact, having listened to both brothers, I shan't be surprised if the younger one makes a bid for the monarch title next year.
I need add that my focus on the London boys must not be seen as paying scant courtesy to other young, successful calypsonians who have stuck with the genre, some among them having already won the title. I refer to Karene Asche (who placed 2nd this year with a witty ditty on female Venezuelan refugees), Helon Francis (2018 monarch), Devon Seale and Chucky Gordon-a handful of the few who have remained faithful to the art form.
As a calypso aficionado, I will admit that some of the young bards need to improve their lyrical contents and melodies, inject humour to make their audiences roll with laughter (study Sparrow, Spoiler), learn to take command of the stage they perform on (check Rudder), and master other tricks of the trade that will define them as professionals, make them more marketable.
But even if they excel in every possible way as calypsonians, they will face the formidable and contradictory challenge of promoting excellence in a society that worships mediocrity. Let me explain. At the calypso finals, a less-than-full Grand Stand (maybe 2,000?) paid a modest fee to enjoy performances by sixteen of the best bards, as well as eight more match prowess in the ex-tempo finals.
Ronaldo won $700,000 as the first prize.
The next night, at the Soca Monarch finals (a private sector competition, but recipient of generous support from state agencies), Grenada's Mr Killa, screaming short strings of inane syllables before a higher-paying crowd of more than 10,000 also-screaming patrons, won one million dollars. Other performers of similar ilk won prizes that were more generous than what the lyrics-laden calypsonians shared at the Savannah.
Because of fraternal relations, calypsonians hardly speak out against this injustice. But I am not so constrained. A "song" that urges audiences to get drunk, grab anything within reach and "run with it", sends fete-patrons, many of whom are so-called upstanding citizens, into crazed-frenzies. But they pay no attention to character-building calypsos.
I see some of my colleagues in the media gushing as Machel Montano counts the number of "lays" in his song "Famalay" in his numerous appearances on television. Have they invited any of the young Londons to the studios or interviewed them in print?
And we complain about lawlessness in the country? About "misguided" youths? We should salute the London clan for staying on course as things fall apart in T&T.