By Raffique Shah
February 28, 2019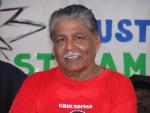 It was a moment of sheer serendipity last Friday night. My wife Rosina and I had just watched the television news, and, scanning the local stations for some Carnival-related activity but finding nothing of interest, I resorted to YouTube for some good music that would take us to bedtime, around ten o'clock.

I thought Sparrow, and typed in "concert" in the hope of finding something from Birdie that was at least 60 minutes long, so that I won't need to set aside the book I was reading too frequently to perform deejay duties on the computer. And there, to my pleasant surprise popped "Sparrow live in concert with Roy Cape All Stars"—two hours and five minutes, which was precisely what I wanted.
I clicked on "play", and almost immediately, without introductory details or credits, "Pappy" Cape's horns set a clearly old-but-not-cold Sparrow dancing and crooning "Age is just a number". There was no way of knowing what songs he would perform, no idea as to where and when the concert was staged (it seemed to be some indoor complex in Trinidad &Tobago), but such is my faith in Sparrow to deliver a lyrical and musical gastronomic feast, I simply adjusted my speakers for our private listening pleasure, and cast the family's pre-bedtime fate to what I expected to be a fraction of the repertoire of the greatest calypsonian of all time.
I should add that my entire extended family love good calypsos—and this includes my youngest brother who is an imam, and his grandson, now nine, who has a notebook in which he records lyrics he likes when he hears my brother singing them. In fact, aside from nursery rhymes, my granddaughter, when she was five-or-so, loved Lord Blakie's 1953 road march "Steelband Clash", a video of which I would pull up on YouTube and we'd sing together. She laughed heartily when she sang, "…quite on top de lady bed, dey pelt a bottle and buss mih head…" "They buss Blakie head, Granddad?" she'd ask, chuckling. My son (Camilo) and daughter (Leila) are also avid calypso fans, the latter familiar with the lyrics and melodies of many of the modern fare that I hardly know.
So calypso, both the songs and music, has been a big cultural influence in my life. Interestingly, the first calypso melody that I remember humming was "Steelband Clash". I will have been seven when Freeport's pride, "Sunny Side Kids", practiced it at night, and played it on the road on Carnival days. By the time I was in my teens, as a schoolboy-calypsonian, I used to learn and sing every popular song that was played on radio, I was good at ex-tempo, and had been given the sobriquet "Lord Carlti" by my friends.
I need add, too, that as I matured and came to appreciate music as a universal language, I realised I could enjoy the best of many worlds, since culturally, I was, and I remain, as appreciative of Indian music as I am of English (pop, rock, soul, disco, etc). But I do have a caveat: whatever I choose to listen to must be pleasing to my auditory senses.
Back to last Friday's serendipitous encounter with Sparrow in full flight. Having established his ageing but hardly diminishing prowess, he delved into the bawdy-"The Village Ram", "Elaine, Harry", "Phillip My Dear", "Mae Mae". Then he shifted to "Congo Man", a soulful rendition of "Slave", the didactic "Education", a humorous "Dan is the Man", a history and politics lesson in "Federation", then the incisive "Good Citizen".
He sang "No apologies", which I hadn't heard before: it was Nelson Mandela's response to America when the State Department tried to have him sever relations with Libya's Muammar Gaddafi, Palestine's Yasser Arafat and Cuba's Fidel Castro, all of whom had supported Mandela's ANC in the fight against apartheid in South Africa, which the US armed and supported. Mandela refused to bow to a hypocritical Washington.
Sparrow sang 20-25 songs, all of them lyrically strong and musically melodic. My wife remarked that no two sounded alike, He was his own master of ceremonies, interacting with his audience throughout the concert. When the video ended shortly after 10 p.m., both of us wanted more: as David Rudder sang in his classic "Calypso Music", "…when Slinger (Sparrow) finish with dey tail, dey shout 'doh go, doh go!"
As I thought of the treat we'd just enjoyed, it occurred to me that Sparrow must have sung (though not necessarily composed) a few hundred songs in his 60-odd-years as a professional, all of them of high quality, certainly a record in the Caribbean, and likely highly-ranked in the world. Oh, I know that Indian singer Lata Mangeskhar is credited with 5,000-plus songs in a career that started in 1948. But she, and other prolific Indian stars, have a market 10,000 times bigger than Sparrow's, and a thriving, voracious film industry that literally consumes songs.
There is another reason why I'm happy to have had that serendipitous encounter with Sparrow last Friday night. The following day was Calypso Fiesta, the national monarch semi-finals at Skinner Park. Forty calypsonians vied for 15 places in the finals, which are carded for Thursday night. I tried to listen to as many of the contestants as I could, wondering, hoping, that I would see and hear a few bards comparable with the King. That did not happen, sadly.
It seems that the good-to-great calypsonians have either gone to the great beyond or are sitting in the departure lounge. The nurseries are devoid of that blend of talents that has stood the test of time, that bequeathed us a priceless collection of timeless calypsos.
Thanks for the music, Sparrow.