By Dr Selwyn R. Cudjoe
February 12, 2019
"The civilization of the fathers was hinged on the preservation of that which already existed, not on the discovery of new things."
—Chigozie Obioma, An Orchestra of Minorities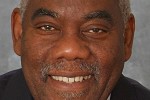 Brian Harry is a Trini who was educated at Queen's Royal College. He has lost several friends because of his outspokenness. Some years ago he told me that a major difference between a developed and a developing society is one of attitude. Citizens of a developed society think of what they can do; citizens of developing societies always think about what they can't do.
This distinction came to mind on January 29 as I read the Trinidad Express and the New York Times articles of how two jurists approached matters of public policy. The cases involved the use of marijuana and each jurist's response to it. I appreciate that we are talking about two different systems of jurisprudence, but their responses to a similar problem was interesting.

Headlined, "Ganja Smoker Sentenced to 80 Hours Community Service," Magistrate Alicia Chankar sentenced Makaan Grant to 80 hours of community service when he pleaded guilty for the possession of marijuana. Policeman Cleyon Seedan told the magistrate that Sergeant Dinoo was on duty when he saw the defendant "walking across the field smoking a cigarette of unusual length. Dinoo approached Grant who looked in his direction removed the cigarette from his mouth and placed it in his right hand.
"Dinoo asked that he open his hand and found the cigarette which contained marijuana…. It weighed 0.6 grams."
"Chanker said discussions are being held on marijuana, and it is a 'hot topic.'" She chastised Grant: "Because it is current discussion, you are under the view that a 'bligh' is necessary?"
Grant: "The culture I come from, we grew up seeing everybody doing it…we accustomed. We smoke to humble ourselves, to relax our minds, to cool ourselves down."
Chankar told Grant that because he grew up in an environment where something is acceptable, "[it] does not mean it is ordained or condoned by legal persons."
She said that while "the world is evolving and in certain countries marijuana use is acceptable, it is not the case in Trinidad and Tobago…. Until laws have been passed, it is against the law."
Grant had other views. He told reporters "that marijuana is a herb with different meanings and uses, including 'sacramental and medicinal rights.'"
On the same day that the Express carried its story, the New York Times offered another headline: "Baltimore to Stop Marijuana Possession Cases." The story notes that while marijuana is officially against the law in Maryland, Marilyn Mosby, the state attorney for Baltimore, said "she would stop prosecuting marijuana possession cases within the city limits, regardless of the quantity, and seek to vacate 5,000 convictions."
Mosby noted that "declining to prosecute marijuana possession has everything to do with making the city safer."
She reasoned: "If you ask that mom whose son was killed where she would rather us spend our time and attention-—on solving that murder or prosecuting marijuana laws-it's a no-brainer….I don't think there is even a choice there."
Baltimore has "the nation's highest murder rate among big cities and one of the most broken relationships between its police and its citizenry."
Proportionately, more blacks are arrested for marijuana possession than any other group in that city.
Mosby said that with a poor record of solving crime-only one in four homicides was solved last year-law enforcement needs to foster more good will. "How are we going to expect folks to want to cooperate with us," she said, "when you're stopping, you're frisking, you're arresting folks for marijuana possession?"
Garry Tuggle, Baltimore's police commissioner, disagreed with Mosby. He said that arrests will continue "unless and until the state legislature changes the applicable laws." Baltimore's mayor, Catherine Pugh, supported Tuggle's position.
Mosby has been called a divisive figure in Baltimore politics. She made headlines in 2015 "when she promised to prosecute six police officers in the death of Freddie Gray, who sustained fatal injuries while in police custody. Her announcement calmed the city."
I wish I could have told Magistrate Chankar that marijuana possession only became illegal in Trinidad when the British wanted the populace to use rum and other such intoxicants to raise revenues. Prior to that, Indo-Trinidadians used "the herb" to meditate and to relax their minds. Chankar, I presume, must follow the law, but when does common sense trump unjust laws?
The Baltimore prosecutor refuses to prosecute marijuana users even though the commissioner and the mayor differ with her approach. Mosby's approach is needed urgently in T&T. We may want to apply this creativity to many of the problems that face us.
In his wondrously enigmatic novel An Orchestra of Minorities, Chigozie Obioma argues that it is sometimes necessary to enter the unknown bravely: "For to not enter is to cease to exist, and for a man to not enter through the door of tomorrow is death."
Let us enter the door of tomorrow bravely. We should bring that perspective to everything that we do. Thinking creativity and "taking a risk," as Lloyd Best advised, may be the necessary posture at this juncture of our social development.
While we are at it, it might be helpful to read An Orchestra of Minorities, a fascinating novel that is set within the Igbo worldview.