By A. Reid
South Trinidad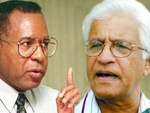 Much attention has been placed on the alleged remarks made by Mr. Larry Achong at the Chatham Youth Centre two Thursdays ago. What the public should realize is that the dogmatic approach of the Member of Parliament has emanated from the head of governance and transcends the smelter issue. It is the view that the honourable Prime Minister believes that he holds the ability to manipulate the citizens of Trinidad and Tobago in whichever ad hoc direction he feels. The Hon. Eric Williams held a unique position in our nation's history as our first prime minister. The political arena was fairly virgin territory and he was able to invoke in nationals a deep sense of commitment and loyalty to him and his party. However, the Hon. Patrick Manning has not done anything that would cause nationals to senselessly and blindly follow him in any direction he chooses. We live in a time when more people are being educated and are able to make viable contributions towards the nation's development. There is neither room nor any need for a dictator here, nor is there room for one who seeks to make mockery of the tenets of democracy.

This leads me to the plight of the residents of Chatham on what is and can only be described as a national issue. While those residents have been more vociferous than others, we in sweet Trinidad and Tobago should realize that these proposed smelter plants would affect us all. Maybe what we need to do is take it home, and not believe that because Chatham is an area some of us have never visited, that we are far removed from it. How would you like to be forced to change location after living in your home for years, after having your family history tied there with numerous cherished memories? Additionally, have we really thought about the farmers and fishermen of the area who after decades of perfecting these skills and passing on their knowledge to younger generations are now forced to learn a new skill for survival? These are just two of many social issues, but is the government of the day concerned with the negative social effects?
No government of our twin island Republic has had a good track record regarding preservation of our environment and proper management of our limited resources. We have always been contented with taking rather than replenishing; spending rather than properly investing; using rather than saving. Such mismanagement signals our lack of appreciation and ownership of this land of our birth. It is not surprising then how easily our government is willing to sell and dispense of what is ours for a few dollars. Power states and large conglomerates dangle the promise of money in our faces and as spineless worms we accept.
Basic economics teaches us to allocate our scarce resources towards the achievement of our unlimited needs. But the government is not even meeting some of our basic needs. Health care is one contentious issue plaguing our society, why does the government want to introduce yet another mechanism that can add to the already adverse situation? It has been reported that workers from smelter plants are at high risk from lung injuries due to exposure to quartz sand, clay, resin, loams, airborne metals and other substances. There are fears that the smelters will create electromagnetic fields (EMFs). EMF from direct current causes cancer; other harmful emissions from aluminium smelters are clearly dangerous.
Studies in Australia found that hydrogen fluoride, inspirable dust, and sulphur dioxide from aluminium smelters caused respiratory problems such as asthma, wheezing, and chest tightness in workers. A 30-year study by the University of Calgari found in 2004 that aluminium smelter workers in Sardinia, Italy, exposed to polycyclic aromatic hydrocarbons were between 2.4 and 5 times more likely to die of pancreatic cancer. In Norway, the Department of Horticulture and Crop Sciences studied three aluminium smelters and concluded that even low emissions of fluoride caused serious damage to nearby vegetation. The question is why take such risks with people's health?
To date, there hasn't been an independent non-politically affiliated body which possessed the will and resolution to investigate the true effects that current industrial sites have had on their surrounding environment. The south – western coast is always in a state of permanent sunset, as a result of the massive flare burning in Point Fortin. Which environmental authority manages that? We play Mickey-mouse games with laws and acts in this country, as they are never adhered to and executed. Who is to say that after agreements have been signed that any of these companies, Alcoa, Alutrint or Mitsubishi, will maintain accepted industrial standards? Who is going to oversee that emissions are disposed of in the standard manner? What about the toxic solid waste; spent potlining (SPL)? Where is that going to be disposed of? There are more questions than there are answers.
It is believed that when one values his land, he takes pride in it, he guards it with his life, and no amount of money, not even US$1.5billion would cause him to give it up. We expect that those we have entrusted with the responsibility of safeguarding our legacy, our birthright will do so vehemently and passionately. We expect them to stand up against any super-power, because they posses a firm back bone. If this is not the case, then we have the wrong group of people as our leaders. Sweet Trinidad and Tobago does not need the Smelters, they need us. Where is our resolve?