By Raffique Shah
January 03, 2019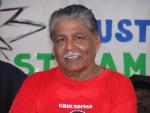 I could have begun the New Year by griping about all the negatives of the old, cussing from politicians to crooks for the many woes we citizens face daily, ranging from a record high number of homicides to a seemingly stagnated economy, arguing that the current government is the worst we have had since the indigenous peoples ran things however many centuries ago, blah, blah, blah.

But for my own sanity and well-being, more so as I'm at that age in life where the hereafter seems to be closer than the past, I chose to try and look at the bright side, to consider that while we have endured really rough times, it could have been worse. Last Sunday morning when I tuned in to BBC television, there was this African singer (didn't get his name or nationality) belting out songs that protested the ills in his country, and telling the interviewer: when your mother dies in the operating theatre because electricity goes, how do you come to terms with that?
A news report showed hundreds of Bangladeshis voting in an election that has been marred by murders and general political violence. Thing is, they all appeared to be of the same ethnicity, as did the Congolese who voted in their elections. There, the polls had been postponed for two years, and on Sunday when they eventually voted, residents of several large districts had been debarred from voting.
The people of these two populous country may have tribal differences, I suppose, but they belong to the same race—so why the internecine warfare? In Trinidad and Tobago, and in Guyana where elections will be held soon, there are visible dividing lines based on race that only a minority of electors have overcome.
Still, for all the efforts of the "dividers", our elections are tame by comparison with those in the aforementioned countries, and many others. Also, while we gripe about every government service, agency and official, the truth is that we are far better off than many, if not most, nations.
I promised I will not start 2019 by griping, so let me get back on track with some positive vibes. With the slump in oil production and recently, prices (the latter is cyclical), and having ramped up natural gas production to close to the required volume (4.2 billion cubic feet per day), the energy sector should return to making an improved contribution to both GDP and foreign exchange earnings, which had fallen precipitously between 2014 and 2017. Because we had grown so dependent on energy earnings, the steep drop in revenue led to government having to cut back on expenditure and to borrow to finance both capital and recurrent expenditure.
In a country that is heavily dependent on foreign goods and services—approximately US $9 billion per year—when energy export earnings declined to US $4.5 billion in 2016, and other exports, mostly manufactured goods, contributed a mere $1.8 billion, there was a trade deficit of $2.7 billion. That accounted for the shortage of foreign exchange, and government having to borrow US dollars and to withdraw from the Heritage and Stabilisation Fund.
To meet this challenge, we must either cut back on imports or expand non-traditional exports, or better still, do both. There is much talk about diversification, but not enough action. I am convinced that politicians tend to think big, meaning billions in capital expenditure, projects such as Sandals, when they talk diversification. Few who tout tourism as a panacea to our woes factor in leakages of foreign exchange that is part of the package. From construction materials to furnishing and outfitting hotels, to foods and beverages served, they are invariably imported, paid for in foreign currencies.
While I am not against tourism per se, I shudder when I think of the hidden costs to taxpayers, such as expensive destination advertising in global media, payments to airlines for seats that may be empty, tax breaks for hoteliers, and so on.
In contrast, while there is some focus on small and medium enterprises, I think such initiatives are not recipients of even the encouragement they deserve, far less structured marketing and tax incentives to help them, so that they, in turn, can help earn foreign exchange we desperately need.
I cite a few products that are pregnant with prospects, starting with fine chocolates, beverages and a range of other exotic products that come from the cocoa industry. To be fair, government has established a company, and the UWI has long had a department devoted to research and development of our unique Trinitario cocoa. There is rehabilitation of old estates and the establishment of new ones. And I am among the voices that have long called for us to phase out selling our valuable cocoa beans, and add value by producing the products I mentioned above.
A revatilised cocoa industry, say about 300 tonnes of beans, could earn us at least US $1 billion per year in value-added products. As it stands today, approximately 50 (I'm guessing) small entrepreneurs, most of whose operations can be described as cottage industries, are churning out high quality products that can penetrate the expanding markets.
If these micro-entrepreneurs get one percent of the attention Sandals gets, and they each net at least US $100,000 per annum in export earnings, that would translate into US $5 million. Small change, you say. Add 100 similar exporters of other agricultural produce (hot peppers, pumpkins) to niche markets. Throw in fashion designers, cultural artistes, pan manufacturers, "tooloom" and "penos" and "dahi" specialists…
Before you know it, with little help from officialdom, you have 10,000 such small entrepreneurs—and earnings of US $1 billion per year. I haven't touched on medium enterprises that can each net US $50 million-$100 million.
The benefits from thinking small and earning big could be enormous, not just in net foreign exchange, but in boosting income redistribution and creating jobs.