By Raffique Shah
November 07, 2018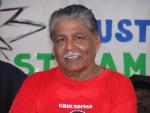 Until scores of corrupt politicians, public officials and thieving contractors in this country are jailed for pillaging the public purse, and are seen wearing "prison blues" so that the population is convinced that justice is evenly dispensed, the lawlessness that runs rife in the society will ravage its body politic like an invasive cancer.
It will inevitably permeate the few decent souls remaining, like the persons whose compassion for their less fortunate brethren during the recent floods kindled hope in our hearts that there is still some humanity left in this jungle of feral greed.

Should we allow our country to slide into this netherworld, we would have effectively executed a "scorched earth" policy, leaving future generations no reasons to remain in this cussed country that would descend into a cauldron of tribalism and cannibalistic partisanship, or, put more crudely, a "dog eat dog" society.
My grim prognosis of just how precarious our situation is struck me in the wake of the disastrous flood at Greenvale Park, a government housing project few of us knew before the raging overflow from the adjacent Caroni River almost wiped out the community. In its aftermath, the two main political parties that were responsible for its establishment at a cost of approximately $300 million engaged in blaming each other for the disaster.
While this stand-pipe-type quarrel between Prime Minister Keith Rowley and Opposition Member of Parliament Roodal Moonilal raged, the Appeal Court, ruled in another matter involving the award of multi-million-dollar suspicious contracts on the eve of the general election in 2015. Simultaneously, I received information that corruption such as the 10 percent skim-off on government contracts awarded, and on expediting long-overdue payments, continues under the Rowley administration.
Regarding Greenvale, I find it unimaginable that the Patrick Manning government insisted on establishing a new development on lands that were unsuited for housing for several reasons, the most dire being its proximity to the Caroni river. For reasons thus far unexplained, that government persisted with pursuing change-of-use (from river reserve and agricultural lands) to the extent that it defied the Town and Country Planning Division's objections and proceeded to start construction of 400-odd houses, hence break the law.
When the Manning government was booted from office in 2010, the People's Partnership administration virtually took up the illegal baton and ran with it, eventually securing approvals from Planning. In the run-up to the 2015 election, then Housing Minister Moonilal distributed keys to Greenvale units with a relish, never hinting to the recipients that they faced grave flooding danger if the Caroni ever overflowed its banks. Historically, that river has wreaked devastation on communities farther away from its banks than Greenvale after excessive rainfall.
Prime Minister Rowley's belated defence that the contractor had warned government in 2010 that certain engineering works, among them a "flood gate", were imperative, is of little comfort to residents who experienced the river's wrath. Surely there are numerous other, safer, flood-free sites that were available for housing purposes. Surely, too, construction costs would have been much cheaper without flood mitigation installations adjacent to the mighty Caroni.
As for Moonilal's claim that the PP government met the project in progress and had no choice but to complete it…really? Wasn't the Brian Lara stadium incomplete? Did the PP not halt works there? And does Moonilal really believe a few box-drains and pumps could save that community from the Caroni in full flood?
No way. But governments squander other people's money, meaning taxpayers', because they know that while they might be deemed culpable and suffer five years banishment to opposition, the individuals who made the fateful, costly decisions will never be punished by way of being jailed, as happens in so many other countries, Brazil being one of the more recent examples.
Public housing is one of the most corruption-ridden and corruption-driven avenues through which billions of dollars are siphoned into the grubby hands of greedy politicians, unscrupulous landowners and unconscionable contractors. From governments purchasing land at ludicrous prices to awarding contracts at outrageous unit-costs, to distributing houses to persons who neither qualify for nor deserve them—you name the crime, they commit it, confident that they will never be prosecuted, far less jailed.
And to think that they sleep easily, even luxuriously, at nights.
Well, if out of evil cometh some good, the Greenvale disaster gives us the citizenry an opportunity to call halt to this damn nonsense.
We should demand that government and opposition agree to establish a special court that will focus only on corruption. Its divisions will include an adequately-staffed investigations unit with powers to summon suspects for interrogation, an equally-equipped office of a special prosecutor, with summary trial by a judge or magistrate.
I don't know about you, but I am fed up with joint select committees of Parliament and commissions of inquiry that in the decades they have been employed, have yet to bring one corrupt contractor or public official to justice. In the normal courts, we have only to look at the infamous Piarco Airport case that has failed to reach trial in more than 15 years.
Indeed, it's a telling indictment against the entire justice system that we know officials high and low who have looted tens of billions of dollars from public funds, or engaged in wanton wastage, but they continue to parade as paragons of virtue.
Let's insist on an anti-corruption court that will jail their thieving backsides, put them in "prison blues".