By Raffique Shah
October 18, 2018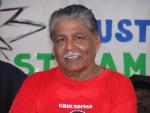 Contrary to my assertion in last week's column that most motorists and commuters do not care about the suffering they endure in daily traffic congestions, responses to the article suggest otherwise. As such, I shall share some more thoughts on the issue which is of immense importance to the economy, which it impacts negatively, and the physical and mental health of citizens, which also suffer serious consequences.

Last week, I made a case for a limited bus rapid transit (BRT) system that will cut commuting time for thousands who must travel from East and Central/South Trinidad to Port of Spain on a daily basis. The system will not help communities to the West of the city (Cocorite to Chaguaramas, inclusive of Diego Martin and Petit Valley) which have grown almost exponentially, and seemingly without proper planning, over the past 40 years.
With city-bound traffic bottlenecking in St James and Wrightson Road, other than having motorists park their vehicles at purpose-built, multi-storied facilities located in the vicinity of the stadium, and ride in comfortable around-the-city buses, I have no suggestions. I don't know that a toll-causeway from the Audrey Jeffers to Chaguaramas is financially feasible, or will even be helpful to residents in the West. Our transportation engineers might have some solutions that traffic-horror.
The BRT system I suggested, in order to be measurably effective, will depend on "feeder buses" that will service communities along its corridors, transporting bus riders to and from locations nearest their homes/workplaces to the nearest main bus stations. Across the country, such communities are serviced by "PH" taxis since neither maxis nor taxis see them as profitable options. The change the PTSC will need to make is to acquire and operate maxi-size buses, given the width and topography of most such roads.
Also, the BRT system can be easily extended along the Solomon Hochoy Highway to San Fernando in the first instance, with the PTSC South terminus/hub located off the Tarouba area, with feeder buses transporting commuters into busy San Fernando and surrounding districts (hence mitigating daily traffic congestions). The same system can eventually be extended to Debe/Penal/Point Fortin when the highway extension is completed, or better still, incrementally, as sections of the extension are brought into use.
There are, of course, other problem areas similar to those in the North-West peninsula I noted earlier. Busy Princes Town, for example, has long outgrown its one-buggy-status with thousands of vehicles clogging its narrow artery daily, some of them extra-heavy oil-servicing rigs heading to or from the country's vast South-East oil and gas operations. In fact, the entire Naparima-Mayaro Road is one long, dangerously-clogged artery which has little space for corrective surgery.
A new highway linking the Hochoy to Mayaro, which has long been on the drawing board, seems to me to be more urgent than what is projected to link Sangre Grande and Manzanilla, or Valencia-Toco.
Suffice it to say at this point that while BRT (or rapid rail when we can afford it) can bring significant relief to traffic congestion across much of the country, it must work in tandem with other vital changes to our thinking and culture.
For how long have we heard about decentralising government and other critical agencies and services that citizens must access frequently? An ideal opportunity for such realignment arose with the closure of the sugar industry in 2003-2007 when huge tracts of State lands became available for purposes other than agriculture.
In fact, some decentralisation did take place with the expansion of what I call Greater Chaguanas (includes Charlieville/Endeavour/Edinburgh/Carlsen Field). But that involved mostly shopping malls, entertainment centres and housing. The only government offices that relocated are the Ministry of Agriculture (Endeavour) and Licensing Department (Caroni)-the latter winning praise for accessibility, which is the main benefit of decentralisation.
Then there is flexible-time at workplaces where that is practical. Many government services do not need to start off at eight o'clock on mornings, or close for the day at 4 p.m. Given the choice, thousands of workers would rather start at nine or ten, and finish later just so they would avoid bumper-to-bumper afternoon traffic.
Advances in information technology and interconnectivity through high speed Internet services have opened yet other options for large numbers of employees to work from home most days, thus sparing them the daily traffic torture. I know of several businesses that implemented this and benefitted from increased productivity by responsible staff, especially mid-level managers who must impress in order to move up the corporate ladder.
Online shopping and conducting other transactions such as payment of bills also help reduce traffic. I'm sure there are many other new technologies that I do not know of that offer opportunities for citizens to stay off the traffic-clogged roads and get things done.
What I have outlined in two articles aimed at addressing traffic congestion on the nation's roads are neither new nor exhaustive. I have returned to address them because I think that not only are they doable, but many of them can be implemented in short order. More importantly, we can afford them without incurring huge debts. And most importantly, reducing nationwide traffic congestion will vastly improve productivity, hence GDP, hence the national economy.
People, I rest my case.