By Dr Selwyn R. Cudjoe
September 24, 2018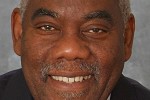 Several years ago Glenda Morean, Trinidad and Tobago's High Commissioner in London, invited me to attend an intimate luncheon with Ulric Cross and four other people. It was the first time I met Cross, this distinguished man. Although I knew Cross's reputation as a combat bomber navigator during World War II, my most indelible image of him was that of an ageless being playing a good game of tennis in his eighties.

Imagine my delight when Trinidad and Tobago Film Festival/18 introduced me to a more comprehensive picture of his life through the beautifully crafted film, "Hero," which premiered at NAPA on Tuesday last. I had no understanding of this man's amazing gifts, tremendous achievements, and the pride he took in being a Trinidadian and eventually his blackness.
Born in Belmont in 1917, Cross possessed a passion for reading which enabled him to win a College Exhibition to attend St. Mary's College when he was eleven years old. When his mother died (he was thirteen years of age), he was taken in by a charitable woman who gave shelter to children and that possibly saved his life.
Although Cross did not win an Island Scholarship, the advent of World War II opened up a way for him to travel to the motherland. He says, "The war was my ticket to England." In 1941 he joined the Royal Air Force (Bomber Command Navigation) where he became a squadron leader. When he left the Air Force in 1947, he studied law, a profession that intrigued him. In 1949 he was called to the Bar (Middle Temple in London). Not entirely satisfied with life in London, he returned to Trinidad where he became a lecturer in trade union history and trade union law.
Trinidad could not hold him. In 1953 he returned to London where he worked for BBC as a producer of various programs. This assignment came to an abrupt end in 1957 when he tackled subjects that inconvenienced the BBC. This confrontation was captured beautifully in the film when he interviewed CLR James about George Padmore and his anti-imperialist work on one of his shows.
Fed up with racism in Britain, Cross left London for Ghana in 1958 to join other prominent West Indians who were participating in that country's development. Cross developed a close friendship with Kwame Nkrumah, the prime minister, which led to his being assigned to many sensitive, high-level legal positions in West Cameroon and Tanzania. In Ghana he worked assiduously to implement Nkrumah's dream of forming a Pan-African Federation
In 1974 Cross returned to Trinidad where he occupied several distinguished positions in the local judiciary. He ended his career as judge of the Court of Appeal (1979-1982) and chairman of the Law Reform Commission (1982-83).
It took the deep intellectual gifts of Frances-Anne Solomon, the granddaughter of Patrick Solomon, one of the earliest nationalist leaders, to research Cross's story, and make this gripping film. Frances-Anne confesses that she enjoyed an early privileged life (her grandfather was second in command to Dr. Eric Williams in those early pre-independence years) until, she was shocked into a new awareness of her Blackness while she was a reporter for the BBC in London.
It was that newly gained vision (or perhaps the trauma of racism's incipient sting) that led her to examine a life that spoke to a much larger vision of who she/we are. It is no secret that Trinidadians have had an enormous fascination with Africa, the fatherland, from the early 19th century. Visionaries such as J. J. Thomas, Michel Maxwell Phillip, Sylvester Williams, and Philip Douglin spared no expense to explore their spiritual and academic connections with things African.
Part of Solomon's intellectual journey, via the telling of Cross's compelling story, consisted in following an intuitive compulsion that both acknowledged hers and our African origins. It also speaks to a Trini's boldfacedness to participate in the liberation of oppressed peoples all over the world, especially from those regions where we came from.
In the 1920s Eugene Chen (Eugene Bernard Acham), a Trini of Chinese descent became the foreign minister in the government of Sun Yat-Sen (the founding father of the Republic of China). Like Cross he also attended St Mary's and went on to serve with distinction in his fatherland. Phillip Huang called him "China's most important diplomat of the 1920s."
Padmore, Solomon's guiding star, also fled these shores, traveled to Russia, via New York and London, to become a member of the highest level of government there (He was Foreign Minister in Ghana when he died). He also changed his name from Malcolm Nurse to George Padmore. When the Communist International de-emphasized the importance of the struggle of black people, he left the party and wrote his famous book Pan Africanism or Communism. After that, he devoted his life to the liberation of black people.
Solomon integrated Cross's story seamlessly into the African struggle for liberation of which we are a part. In doing so, she filled a lacuna that has remained an open wound in our political and social landscape. This was the most touching part of the film to me.
We must congratulate this child of independence on the 56th anniversary of our nation's birth for the boldness of her vision, the scrupulous integrity of her enterprise, and the uncompromising rendition of this important part of our story.