By Raffique Shah
August 02, 2018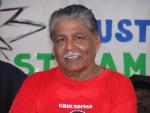 Sometimes when you live long enough, you get around to enjoying the proverbial "last laugh", or, in this case, the "last cry", depending on your perspective.
On Republic Day 2000, I wrote a story in the now-defunct Independent newspaper telling of a report compiled by a professional "alcohol valuator", American Robert Fuchs, that assessed the value of the aged rum stocks that Caroni Ltd held at its bonds on the compound of the distillery at Caroni Village.
Fuchs told Caroni that its 18,000-plus casks of rum of varying vintages, if converted into premium aged rums on a phased basis, could gross between TT $1 billion and $6 billion, depending on "intent of product".

I quoted two officials of the companies' staff associations (ATASS and SISA), who explained: "One cask, for example, yields 275 cases. Caroni has in its bonds 18,146 casks. These will yield around six million cases of rum, or 70 million bottles of blended products…"
At the time, Basdeo Panday, who was Prime Minister, had told an AMCHAM meeting that Caroni's rum stocks were worth "considerably less than (TT) $100 million", and there were rumours that the Government was planning to sell a 49 percent stake in Caroni's Rum Division (later renamed Rum Distillers Ltd) to Angostura for TT $35 million.
The associations, along with the cane farmers' body I led (TICFA), did not object to a joint venture with Angostura. However, we argued that given the value of Caroni's aged rums, Angostura should inject at least $500 million.
Well Papa, as late comedian John Agitation would have said, who tell me to raise what was tantamount to a hornets' nest over the valuation and the value of Caroni's aged rum stocks? People high-and-low all but hounded me out of town. "Look de billion dollar rum man!" they would shout, laughing raucously. "He t'ink dey have gold in dem barrels! Shah talking Shmit!"
Fast forward to last week when the Business Express, under a banner headline "Caroni lives on", told a gripping tale about Luca Gargano, boss of an Italian fine wines and spirits importer, Velier.
During a routine visit to Trinidad in 2004, the story went, Gargano supposedly "stumbled across the shuttered Caroni distillery, and was led, Indiana Jones-style, to a boarded-up warehouse and shown thousands of wooden casks of rum, some dating back to 1974…he bought all the barrels, took some to Italy and left the others to mature in Trinidad…"
According to travel writer Elizabeth Heath, as quoted by the Express, Velier "has been releasing small batches of Caroni rums…for rum connoisseurs…" Price? Between US $400 and US $1,000 a bottle!
Gargano's story of stumbling across this cache of "liquid gold" (my description in the story I wrote in 2000) is hogwash. Caroni's distillery and bond were still intact in 2004, and the "ghost" who led him to that source of immense wealth was some flesh-and-blood crook who saw an opportunity to make millions off Caroni's rum stocks that ultimately belonged to the people of Trinidad and Tobago.
Readers may want to Google "Caroni aged rums" and see for themselves that bottles of this precious product indeed sell in the price-range quoted. In fact, a limited edition (2,000 bottles, I seem to recall) of Caroni Legend, which was blended and marketed by the Rum Division shortly after the year 2000, and sold at the time for TT $400 a bottle, remains a collectors' item that today fetches 20 times that price in online auctions.
Interestingly, no one who was authorised to sell off the company's aged rum stocks is prepared to state categorically where those 18,000-plus barrels went. In the Express article, an unnamed former Angostura executive admitted that the distillers bought some and kept others in storage for Rum Distillers Ltd and Gargano.
Gerry Hospedales, who, at different times, was chairman of Caroni and head of the Divestment Secretariat mandated to wind up the company's operations, when questioned about disposal of the rum, told the Express reporter, "Let sleeping dogs lie, nah! Yuh know rum evaporates?"
Rum stored in oak casks lasts for decades, and gets better as it grows older—even I know that. But here's Hospedales talking tripe about aged rum evaporating. Since there are no records to show exactly where those 18,000 casks went, who bought them and at what price, Hospedales may well be correct: our "liquid gold" evaporated into the bank accounts of persons unknown.
Gargano has forged both a myth and a legend out of Caroni's aged rums (in the article, reporter Heath wrote about a "secret handshake" to alert selected connoisseurs to its availability, and a "cult" for its flavor dubbed "Caronimania"), and is clearly making many millions of dollars off rum stocks that Panday and Hospedales, among others, deemed worthless.
Governments (Panday's and Patrick Manning's) got rid of the sole element in the sugar industry that could have brought in big bucks—molasses and rums.
In a curious twist to the tale, Trinidadian engineer Raphael O'Neal who managed the distillery when it produced the special edition Legend blend, went on to Barbados where he manages one of that country's sugar factories.
O'Neal has presented to that Government a simple spreadsheet that shows 100 tonnes of cane fetching B'dos $16,500 in sugar and molasses—which is unprofitable.
But the five tonnes of molasses, distilled into rum, fetches a clear profit of B'dos $187,000 for the distillers, with the rum priced at a paltry $10 per bottle.
I can only hope that our Bajan cousins are not as stupid as we were, that their brains don't "evaporate".