By Linda E. Edwards
November 14, 2006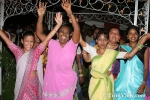 According to headlines in the major dailies, and substantiated in the accompanying articles of Nov.12, 2006; people of Indo-Trinidadian descent are besieging the visiting Vice-president of India for relief from the discrimination suffered daily in Trinidad and Tobago at the hands of the Afro-Caribbean and other people. This letter is in response to those pleas.

To: Her Excellency Bhairoon Singh Shekhawat
Vice President of India
Government of India:
Madame:
On your return to India, please request of your Prime Minister, Manmohan Singh, that he dispatch Indian passenger ships, (with Indian Navy escorts to prevent piracy in the Indian Ocean) to Trinidad and Tobago to offer immediate repatriation to all "Indians" who are not Trinidadians, and who have suffered in this country as a beleaguered minority for more than one hundred and fifty years. It would of course be necessary for the Navy ships to wait outside the territorial limits of Trinidad and Tobago's waters (12 miles) which means they cannot come into the Gulf of Paria, but could wait off the North Coast. It would also be necessary to seek the permission of the Colossus to the North, who calls itself the world's greatest democracy, never mind that more Indians vote freely in elections than their entire population. This colossus regards the Caribbean Sea as its private lake, so if permission is not sought for the Navy Escorts, their being in the Caribbean could be seen as a hostile act, with bad consequences, if shooting starts, for all the innocent people who have never done India or that other Big Power any harm.
It will not be necessary to evacuate every Indo-Trinidadian. Some have integrated into the society. We had one who recently passed on, The late Excellency Noor Hassanali who was the president of the republic for five years. His wife will most likely stay, but you should ask her. All the others who claim to be "Indian" and not Trinidadian or Tobagonian, should be evacuated to their original villages, if they have a record of where they came from. Many could be settled in Kerala which is still mostly agricultural, and which has had a long contact with Christianity, but those who are most hostile to faiths other than Hindutva should be settled, at the pleasure of the government in those underpopulated central parts of the Deccan. The major cities of Mumbai and others may be too crowded already, and immigrants do not usually do well in big cities. They are likelier, from my studies, to do better in small towns and rural areas.
For more than one hundred and fifty years, these people have lived in Trinidad and Tobago, and reached the highest level of achievement that any can reach- in the Arts- the Nobel Prize For Literature, 2001; in the judiciary- Chief Justice of the High Court, in Business – now beleaguered criminals some of them, and politics- leader of the Opposition and Prime Minister. Despite this, they are a discontented people, forever trying to invite foreign governments- like yours, to interfere in the politics of Trinidad and Tobago, and have harmed the country internationally.
Specifics: About twenty years ago, Trinidad and Tobago enjoyed great relations with Canada. Trinbagonians could migrate there easily, and prosper. That was until a few Indo-Trinis went there on visitors' visas and claimed to be refugees fleeing persecution.
At first, the Government of Canada "rescued" them, gave then the statutory allowance for refugees and helped them resettle When word got back to TnT that they were given living allowances and housing, a flood of "Indians" from TnT besieged Toronto, Ottawa and Montreal, as well as Vancouver. This forced the Government of Canada to revise its policy of immigration from Trinidad. Now the line waiting for visas to visit relatives in Canada is almost as long as the one outside the American Embassy- where they stand in the sun for hours like cattle waiting to be herded somewhere, in a line reaching around the block. Trinidadians of other descents went to Canada and integrated into the society, becoming educators at all three level, engineers, businessmen, actors. Some "Indians" from Trinidad and Tobago did not integrate but kept their wife murdering and drug dealing ways, increasing the crime rate exponentially in Canada's major cities. Although the Government of Canada does not generally keep statistics based on race or country of origin, it should be easy for your computer whiz kids to gather the information to back what I say.
Recently, some Indian businessmen were treated badly on an international flight, for being loud and drunk. Dutch officials explained that they thought they were from Trinidad. That says it all!
Every time an Indian official visits Trinidad and Tobago, The "Indians" in Trinidad redefine themselves as a separate people from the "others". I first saw this phenomenon in the 1960's when your late Prime Minister Indira Gandhi visited Trinidad. While no one faulted the waving of Indian flags, we had waved enough British flags when out colonial masters came visiting, including on honeymoon trips, many "other" Trinidadians were disturbed at the attitude of separateness that the "Indians" of Trinidad showed. This has been repeated with each visit of an Indian dignitary, including various swamis and religious teachers. Afro-Trinidadiand do not do this when presidents of African republics come visiting. News coverage of the visits of Thabo Mbeki of South Africa and Olusegun Abasanjo of Nigeria could prove this. Racial slurs and ridicule were offered to the Most Rev. Desmond Tutu of South Africa, when he came visiting in 1987. His name was compared to an Indian word for shit, by some amused "Indians". No radio report can claim that any swami or guru was offered such insults by "other" Trinbagonians.
Whenever someone in Trinidad and Tobago of Indian ancestry commits a crime, the race card is raised to try to affect the course of justice. This is true even in cases of wife murder, which is prevalent in that community. You may be aware since your government doubtless monitors such things, that the former Chief Justice is accused of trying to pervert the course of justice by interfering in matters that were to appear before magistrates and junior judges who report to him. That matter has now reached the Privy Council of England, where these former colonials believe they could get justice, above the justice of Trinidad and Tobago. India is a republic within the British Commonwealth. Do all of your big cases go to the British Privy Council also, or is it that the "Indians" in Trinidad and Tobago cannot bear to be adjudged by someone who is not Indian unless that person is a White Massa from our colonial past? Had these been citizens of India, would not your government regard them as being disloyal to the state and thus guilty of possibly traitorous conduct?
You may well ask, Madame, what the government and people of Trinidad and Tobago done to ameliorate the conditions of the former indentures?
I invite you to look at our calendar of national holidays. You would see three devoted to Indian celebrations, Divali, Eid Ul Fitr and Indian Arrival Day. I invite you to examine our schools that are not "Indian" schools, and you would see Indian children integrated into all of them. The reverse is not true of other children attending "Indian" schools. There are a few. You should interview some of them before sending those ships.
A sports team is appointed: The Soca Warriors- no "Indian" complains, soccer is not their thing, cricket is. The team goes to the world cup, and without winning a single goal distinguishes itself for our country and are given a monetary reward. Immediately the complaining starts that there are no Indians on the team. Immediately questions are asked why not give it to cricketers too? Our internationally recognized white artistes and sportsmen, also begin questioning and agitating, where once there was peace.
Our highest national award was removed from consideration this year, based on a lawsuit filed by "Indians" that it was a Christian award designed to promote the Christian religion. The award was instituted at Independence based on the name of the country. This year, we gave no awards.
Serious minded and concerned Trinidad and Tobago Citizens are coming to the conclusion that there is no abiding these people. They will not be satisfied, no matter what. Many have never integrated into the society, and never will and apparently are proud of that.
Now we are all a nation of immigrants, all brought there under inhumane conditions by the former British Raj, but some wear they complaints on their sleeves, as the beggars at the temple doors who hold up their scars for the world to see.
It is time Trinidad and Tobago forges ahead building one society on the prosperity of our oil and gas finds, the education of our people and our respect for international law. It is time we build one society that lives up to our national anthem- "Every Creed and Race Finds an Equal Place; and May God Bless Our Nation" and to our motto: Discipline, Production and Tolerance. This tolerance should not be extended to those who make traitorous statements to foreign governments and so damage our democracy.
So Madame, I plead with you, send ships to reverse the journey across the Kali Pani. Take the Indians home to their ancestral villages, and leave the Trinbagonians to enjoy a multi-racial society in the Southern Caribbean that we boast of as being a model of all people dwelling together in unity. They could be asked to draw up their own list. Remember Uganda and Kenya? Nothing was learned apparently, by the "Indians" who were living there either.
This letter has been years in the making, and I do not ask this of you lightly. I do not represent any government office, nor party. I am simply an educated Trinbagonian who has come to the sad realization that in some societies, divorce papers for ethnic groups are a necessity. Years ago, I came to the same realization in my personal life, and took the necessary steps.
Please launch Operation Rescue for all the "Indians" in Trinidad and Tobago at once. They are not going to Canada, the US or Britain, they are to be repatriated "Home" to India. All Trinbagonians will thank you. I thank you in advance.
Yours sincerely,
Linda E. Edwards
Nov. 12, 2006