By Dr Selwyn R. Cudjoe
April 30, 2018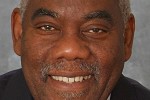 I want to congratulate Marina Salandy-Brown for her marvelous gift to the nation in conceiving and developing the Bocas Lit Fest that has reenergized how we see our world. It connects to a long literary tradition that has its origins in the early days of our society.
Salandy-Brown, the founder of the festival, says she was motivated to "reestablish a place for Caribbean literature, which had all 'disappeared' from the purview of metropolitan publishers, being replaced, in Britain, by works by the children of Caribbean people born in Britain, such as Monica Ali and Audrea Levy" (Express, April 25).

Ali and Levy are not necessarily in the best tradition of Caribbean literature. Salandy-Brown says: "That was not us. But yet Naipaul and Walcott were, at the time, two living Nobel laureates from our islands who were extremely well known. We had this incredible tradition that we were not exploiting and there was no focal point for Caribbean literature."
An Express editorial argued that the Bocas Lit Fest was "an idea whose time, arguably, was overdue. The collective Caribbean, flush with creative energy and output, is the site of an enviable and confident literary legacy dating back to the 19th century…. The notion of recovery of neglected writers and those whose works are at risk of being lost though attrition of time is among the big ideas with which this year's edition of Bocas Lit Fest concerns itself."
When I wrote Beyond Boundaries: The Intellectual Tradition of Trinidad and Tobago in the Nineteenth Century in 2003, I wanted to recover the neglected writers and thinkers of that period. I also wanted to demonstrate that T&T has a long literary tradition that commenced in the early nineteenth century. This is why I disagreed with V. S. Naipaul who, in his Nobel Prize Speech, bemoaned there were no local models when he began to write.
He argued that unlike the French child, Trinidad does not possess a tradition of literature into which he could have immersed himself. I countered that "there is an existent tradition of writing, cultural practices, customs, uses of language, etc., which have helped us to produce and influence a host of significant Trinbagonian writers, up to and including Naipaul, [although] it has not been mapped, historicized, or examined in detail. This tradition exists in tracts, novels, newspapers, travel writings, dramatic performances, open-air theatre, sermons, and poetry."
The literary societies and debating clubs that emerged after slavery cradled our literary efforts. The colonial elite established the Port of Spain Literary Society on September 1, 1840. George Scotland, the chief justice, was the president whereas Rev. George Cowen, the aneusesis of Maria Jones (1848), the first slave narrative by an African woman in Trinidad, was the treasurer. Charles Warner, the solicitor general, was also a member of the society.
On June 13, 1846, a letter appeared in the Trinidad Spectator that called for the creation of a "literary institution." In the writer's view, literature included more than expressive genres as poems and tales; rather, it also encompassed any written work in the humanities or the sciences that contributes to the edification of the citizens.
He writes: "Literary institutions have ever been found conducive to promote liberal and enlarged views of things, and may be looked upon as the surest support of our social edifice. The principle of self love, inherent in the human mind, in this instance ennobles the man….
"A calm and dispassionate study of the various branches of literature and science develops the ideas, expands the mind, and corrects many erroneous opinions originating in a dearth of information, while the intellectual mind ranges with fond delight over the vast and fertile field offered for its delightful contemplation."
This writer directed his letter mainly to the elite of the society.
Several prominent men established the Trinidad Literary Association on November 21, 1846. Rule 21 provided that "any member may introduce a Lady on the Evening of the lectures."
In June 1851, the Trinidad Free Press announced it would become a political, literary and agricultural journal, "a portion of [whose] columns shall always be supplied with Extracts from the numerous Literary Periodicals which are now published in England." It carried articles on the slave trade in Cuba, a biographical sketch of George Washington and printed "Sadiki, 'The Learned Slave," one of the few Caribbean slave narratives that was extant.
An indigenous tradition of writing emerged at that time. The Trinidadian, the site of many polemical debates, published Adolphus: A Tale (1853) that was written by a black Trinidadian. In 1854, Maxwell Philip, one of our leading intellectuals, published Emmanuel Appadocca Or, Blighted Life (1854). It was the first novel of T&T and perhaps the Anglophone Caribbean.
The Bocas Lit Fest represents a continuation of a long effort to educate and cultivate our literary and cultural sensibilities. It has come a long way from when the Port of Spain Literary Society prohibited its members from participating in any "political or religious controversies." As Ken Attale affirmed, Bocas Lit Fest has made tremendous ground in its eight years because it is "more than a literary [festival] as it engages in ideas and current topics."
May its educative light continue to shine.