By Dr Selwyn R. Cudjoe
January 10, 2018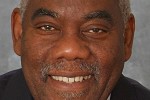 Last Sunday I attended religious services at the St. Mary's Anglican Church where my people have worshiped since it was constructed in 1843. The prayer of the day was the importance of the Holy Spirit in our lives. It read: "Father pour out Your spirit upon us and grant us a new vision of Your glory, a new experience of Your power, a new faithfulness to Your Word and a new consecration to Your service that Your love may grow among us and Your kingdom come, through Christ our Lord."

Taking his cue from that uplifting prayer, Father Anderson Maxwell, our parish priest, asked his parishioners to adopt the sentiment "Just a closer walk with thee" as their motto for the New Year. He used a hymn from the CPWI (The Church in the Province of the West Indies) to punctuate his message. I would have chosen Mahalia Jackson's "Just a Closer Walk with Thee," especially since we had sung hymn 65, "Go Tell It on the Mountain," adopted from the African-American spiritual of the same name.
As I sat among my fellow parishioners, many of whom I have known from my childhood years, I thought of when our village seemed a paradise. I remembered an article that appeared in the Trinidad Guardian on April 5, 1921. It read: "A visit to the Orange Grove Estate on any day of the week during crop time will give the stranger a faint idea of the value of this industry to the island. Situated in the Tacarigua district on a beautiful stretch of flat country of easy access and swept continually by most refreshing breezes, hundreds of people move about, each bent on his own particular duty. Hundreds of farmers' carts, laden with canes, line the route to the factory, and on every side one hears discussions as to the splendid results expected this year."
As I sat in St. Mary's on Sunday, I thought how beautiful it would be if our prime minister and his ministers visited some of these places of worship (that is, our mosques, our mandirs, and our churches) and elicited the assistance of our religious leaders and their congregations to participate in our fight against crime. As my mind wandered, I thought, If we partnered with these powerful organizations—they are at the heart of who we are—I felt we could provide another front on which to combat that iniquity that has bedeviled our society.
Moved by the pastor's message and the sense of community I felt as I fellowshipped with the other congregants, I scribed on the one-page program: "Crime, a disruption of the social order, is nothing more than our inability to care for one another. It represents a disconnect between our physical desires and our spiritual essence." I do not see our spiritual essence merely in religious terms but in that indefinable, unspeakable force that defines our humanity.
Once I left the service, I was convinced that all elements of our society must be involved in our fight against crime. Yet, the first news item that greeted my eyes on January 1, 2018 was, "Man Shot Dead in Laventille." The story announced: "A Morvant man, who was shot dead in Laventille yesterday, became one of the country's final murder victims. The death of Brandon 'Monkey' Raymond, has taken the murder rate to 494 up to press time. He was killed around 12:30 p.m."
By the end of the week, as many as nine people had lost their lives at the hands of fellow citizens. The possibility of the murder rate spiraling towards six or seven hundred deaths this year seemed possible. I pondered the words contained in hymn 771 that we sang at church: "O Zion, open wide thy gates, / let symbols disappear; / a priest and victim, both in one, / The Truth himself, is here" (CPWI Hymnal).
When I was growing up, my mother taught me to embrace all religions. She counselled: "If you go to a mosque, take off your shoes; if you go to a church, take off your hat." It was her way of teaching ecumenicalism without all the linguistic paraphernalia the priest and his scribes demanded. Today, in our country our spiritual salvation lies in our combining the political with the spiritual impulses; the alternative is our falling apart in our tiny domestic enclaves. Church man and commoner must be a part of that battle.
To save our country our politicians must go to where the people are, discoursing with them in their religious homes, and asking the religious bodies to partner with secular organizations to combat this social malaise that is rotting the society. We cannot get anywhere in this endeavor if our leaders indulge in their own forms of social deviance. It cannot be "Do as I say." Rather, it must be "Do as I do;" the priest and the victim; politician and scribe working together to prevent our country from sinking into a deeper abyss.
This year, it might be helpful if we followed Father Maxwell's advice and took a closer walk with one's neighbors, proclaiming that life and the perpetuation of life are the highest values. We should do everything to preserve these values.