By Raffique Shah
December 31, 2017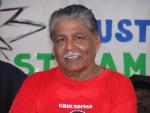 A few weeks ago, my granddaughter, who is all of seven years old, said to me with a look of triumph on her face, "Granddad, I finished reading my new book," adding with emphasis, "…eleven chapters in four days!" "Very good," I commended her as she proffered a copy of the children's version of Lewis Carroll's "Alice through the Looking Glass".

The classic was of course condensed, catering for children her age, so the chapters were short. But the fact that she had read it and proceeded to give a synopsis of the story and its main characters, filled me with joy. I should add that, among other similar books, she has read Anna Sewell's "Black Beauty", another classic I had studied for English Literature in Form 1 at college.
It is not by accident that little Lara has taken to reading books, fiction and non-fiction, and enjoying them. My son and daughter-in-law are avid readers, as are my wife and daughter. When my two were her age, they were weaned on similar but longer versions of the classics, and since my old wooden "shamba" had more books than space, they graduated early to reading some of the best novels ever published. They were literally inundated by books and developed a passion for reading that has grown as they matured.
Indeed, Lara has seen me read more than doing anything else. With Parkinson's disease restricting my mobility for varying periods every day, I use the down time mostly to read. This year, I have read at least fifty books, the bulk of them for entertainment, churned out by thriller-writers such as James Patterson, David Baldacci, John Grisham, Robin Cook, Lee Childs, Jack Higgins and Frederick Forsythe, to name the more popular.
With the Kindle as my main library for eight years—easy access to books, readily available any time and adjustable font-size to make reading easy on the eyes—I have taken to reading or rereading some of the greatest works of literature, which are available on Amazon for free or almost free. For example, after I read Jeffrey Archer's 'Prisoner of Birth' two years ago and I realised the bestselling author had used Alexander Dumas's 'The Count of Monte Cristo' as his theme, I thought: why not read the original story—and I did, It took me a month or more (I was also reading current novels), but I thoroughly enjoyed it.
I must have paid US $1 for Dumas's classic. Others that I have bought cheaply and I am still reading, read or reread are Melville's 'Moby Dick', R.L. Stevenson's 'Kidnapped', Hemmingway's 'For Whom the Bell Tolls', Tolstoy's 'Anna Karenina', Homer's 'Illiad' and Cervantes's 'Don Quixote'.
I am so voracious when it comes to reading, other great novels of more recent vintage passed in my quest for good storytelling, style and use of language: Truman Capote's 'In cold blood', Harper Lee's 'To kill a mockingbird', Kurt Vonnegut's 'Slaughterhouse Five', even Vidia Naipaul's 'Miguel Street', maybe my fifth reading of this most 'Trinidadian' of his novels (or would that title go to 'Suffrage of Elvira'?).
Speaking of books penned by local authors, I have read all of Naipaul's (he is undoubtedly a sourpuss and an ingrate to the land of his birth, but he's a great writer), Earl Lovelace's, Monique Roffey's, some of Michael Anthony's, and one-off books by Niala Maharaj, Marion Jones and Kevin Baldeosingh, among others. For me, Kevin's 'The Ten Incarnations of Adam Avatar' is the most imaginative story written by any local writer, and ranks as world class, comparative with similar historical works, like, say, Robert Harris's Cicero trilogy or Ken Follet's Knightsbridge series.
Pity is the riveting story that spans ten fifty-year cycles of Caribbean history, interwoven with connections in Europe and Africa, laced with Kevin's trademark irreverence, never got the exposure it deserved. Most people, even avid readers of that genre, are unaware of its existence or its availability on Amazon Kindle.
The pleasures in life I have derived from voracious reading, the immense benefits—vast reservoirs of information and knowledge, vocabulary, style and more—are reasons why I'm happy that my granddaughter and grand-nephews and nieces have embraced it with fervour. In fact, I feel happy when I see children being encouraged to read or spell or write via programmes and competitions organised by media houses, corporations and NGOs.
Heaven knows we need more, many more, people who know the fundamentals of the English language, which, like it or not, is our first language or mother tongue. I am not dismissing the vernacular: hell, ah speak de damn ting every day. But in the wider world, the global village, standard English is what is recognized, is what we are judged by.
Reading books written in English, even when the vernacular is interspersed, sometimes dominant (Lovelace, Merle Hodge), is critical to learning usage of the language, and reading good novels make that process pleasurable.
Ironically, information technology and advances in the Internet have both facilitated and retarded good language usage. The Kindle and other e-books make it easier and cheaper to access good reads. Sadly, though, the so-called social media networks expose users to language-retards who are hopeless in understanding issues, hence dangerous in expressing their opinions…if you understand the gibberish they write.