By Raffique Shah
December 13, 2017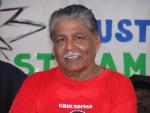 If there was anything shocking about the opposition United National Congress members voting to scuttle the so-called anti-gang legislation in Parliament last week, it was the seemingly shocked expressions on the faces of the Prime Minister, the Attorney General and other members of government.
I was shocked that they were shocked by the opposition vote. Did Dr Rowley and his ministers really expect Kamla Persad-Bissessar and her colleagues to support the Government in any bid to fight crime? Any street-smart Trini could have told the PM long before the Bill came up for debate that the UNC would not allow it to be passed in the House.

It mattered not what manner of sunset, sunrise or high noon clauses it contained, or what concessions the Government was prepared to make to mitigate the human rights violations the opposition claimed to be concerned about if the Bill became law. They could have offered to pay legal fees for anyone charged, agreed to "host" suspected gangsters at the Hyatt instead of the dank cells at the prisons, Kamla and her gang were never going to facilitate its passage.
You see, Kamla's UNC is not Basdeo Panday's UNC, whose stated purpose while in opposition was "not to make government look good". Kamla's UNC is about frustrating government at every turn, subverting it, sabotaging it, making it look helpless and hapless (the Rowley administration does not need much help here…it's doing a fine job on its own) by any means necessary.
I am convinced that the Opposition would sooner see the country bathed in blood, rendered ungovernable, descend into chaos, than lift a voting finger that might help contain or reduce crime if such support might extend the PNM's sunset in office by 24 hours.
If anything, I was surprised that Kamla did not seek a waiver on Standing Orders to enable her to have a "temporary MP" sworn in, and present a live gangster, armed and menacing, to argue his blood-brethrens' case against anti-gang legislation. Well, she did install a casino croupier in the Senate to speak against increased taxation on gambling, and he was accompanied by a very vocal chorus comprising his colleagues who roundly abused certain senators and the Senate president in the Chamber, live on television. So why not a gangster to speak out on violations of his rights?
While the opposition's predictable position on the law that they first introduced back in 2011 signalled their refusal to collaborate with government in fighting the tidal wave of crime, I do not see how the absence of such law will hinder the police if they are really serious about dealing with gangs and gangsters.
By AG Faris Al Rawi's own admission, although a version of the law was in force up to 2015, the numbers of gangs, gangsters and gang-related crimes increased by more than 100 percent. Moreover, if the police have reliable information on the gangsters and their criminal activities, why do they need a special law to aid them in dealing with gang-related crimes?
In a television interview yesterday, the AG argued that enactment of the law would have sent gangsters scampering for safety. I submit that the enforcement of existing laws would have already put many such criminals behind bars. And while the additional powers the anti-gang law would have conferred on the police might have made crime-fighting easier, it seems to me that many police officers expect to have the criminals' heads served up to them on a platter.
Realistically, the anti-gang legislation is now dead, murdered by an opposition party that hopes to swim back into power in the pond of blood its absence from the statute books will see shed. There will be no resurrection in six months or anytime between now and the next general election—the incumbent Government had better recover from its shell-shocked state and understand that.
And please, people, do not grovel at the feet of these unconscionable parliamentarians in the UNC: they have a huge pool of sycophants to do that daily, supporters who see nothing wrong in their elected and selected representatives prepared to sacrifice their supporters' lives on the altar of political expediency.
We find it incomprehensible that radical Islamists would engage in suicide bombings and other atrocities en route to heaven—or so they believe. How, then, does one rationalise supposedly sensible people defending to the death, sometimes quite literally, the reckless, unpatriotic actions of leaders whose sole motivation is self-preservation, self-aggrandisement?
Because make no mistake about it, there are tens of thousands of people out there who believe that Kamla and her gang did the right thing by voting against the anti-gang law.
She will tell them she did it because the law violates their fundamental constitutional rights, and they will applaud. She will say that she was prepared to support it if the PM had agreed to a two-year sunset clause, and they will applaud. She will not say, and they will not ask, the difference between the violation of rights for two years and four years, but they will applaud.
You hear lie? Dat is lie!