By Raffique Shah
December 06, 2017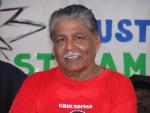 Many people, among them the anointed political pundits, seem to think that the widespread discontent among large sections of the population over what they see as lame governance by the Keith Rowley-led administration, and a depressed economy that shows no sign of recovery, could erupt into a violent political upheaval such as this country has experienced on several occasions in its pre- and post-colonial history.
In fact, I sense that many politicians are hoping for an eruption that would force the Government out of office by one means or other, thus creating a vacuum that would be filled by those who appear to be best organised at the critical point in time.

As someone who was involved in the revolution of 1970, let me sound a warning to those who hope to capitalise on what they perceive to be political chaos: the groups that are best poised to exploit the anarchy that could come from a total breakdown of governance are the criminal gangs, They are heavily armed, very dangerous, and have no compunction about killing anyone who stands in their way. They have so embedded themselves in communities throughout the country that strategically they can out-manoeuvre the forces of law and order.
That is the perilous prospect I see staring us in the face. This is not 1937, when an oil workers' strike led by Uriah Butler quickly grew into a national strike out of which most of the working class benefitted from improved wages and better working and living conditions. This is not 1970, when the masses demanded a redefinition of their identities and the real fruits of independence, not the neocolonial order that had seamlessly slipped into place after August 1962.
In those two revolutions, the leaders rallied the masses to fight for the greater good of the country, for their betterment as a class. Yes, there was violence in both instances. But it was contained by responsible leadership, minimising the blood that flowed and the destruction of property.
Any eruption that takes place in the current scenario will be driven by the lowest common denominator—greed: greed for material things, greed for self-enrichment, greed for power. In this animal-farm-scenario, the strongest, meaning the best-armed and boldest, will not merely survive. They will prosper from their ill-gotten gains or spoils of war. They will beat into submission the masses who thought they were involved in a real revolution. And they will liquidate the politicians who believed they could dismount and tame the tiger, once the dust settled.
That is what I see looming large on the horizon if those who wield power fail the people who put them there, and if those who lust after power pursue their greed by any means necessary.
I therefore warn the Government to get off its lazy backside and do what it was elected to do—govern the country properly. And to the disparate opposition forces that fan the fires of discontent in the hope of benefitting from the resulting chaos, I urge them to stop playing the ox.
Too much is at stake. The incumbent Government is moving in slow motion if it's moving at all: two years and counting and they still have not rectified the Tobago ferry service—come on, man. Little is happening with the economy, crime is the only growth sector, if I may so dub it, looting the Treasury is more rewarding than Play Whe, productivity has plunged to new depths…need I list our litany of sins?
At the same time, by global standards, this country has not done badly. We have more than adequate schools and educational facilities and opportunities, enough hospital beds and health care institutions, as well as medical professionals. As grim as our finances are, we have healthy foreign reserves and savings. But for WASA's wastage and inadequacies, our production of potable water ranks right up there. Power generation and distribution are so good, we take them for granted. Our roads are reasonably good. Hardly anyone starves, except a few, and those mostly because of poor personal choices.
In other words, we have good fundamentals in just about every facet of a functioning country, although we have messed up big time in some key components. Sure, we need to fix these shortcomings, get our act together, and here I refer to both the governed and the Government.
What we definitely do not need is a social explosion engineered by greedy elements, executed by criminals riding a wave of discontent that would extract us from the frying pan of incompetent governance and dump us into the fire of total disorder, a hellish Dante's inferno, at which point we must abandon hope.
We can still save this blessed-cussed country, pull back from the point of no return. But that will require of us, all of us, every creed, every race, every political persuasion, a level of maturity that is alien to us, a depth of patriotism that penetrates the soul, such that we say from our hearts: this is my own, my native land…
Can we rise to the occasion, set aside the prejudices that divide us, summon the pride that should unite us, and rescue our country from a fate worse than a failed state?
You tell me.