By Seeta Persad
November 13, 2017 – newsday.co.tt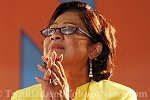 Opposition Leader, Kamla Persad-Bissessar said she remembered outlining to UNC members of a conspiracy to undermine former PM Basdeo Panday long before she became the leader of the UNC and her instincts were correct. Shortly after that meeting with supporters and voicing her concerns, the Congress of the People (COP) was formed with supporters of the UNC. "I was right about these people," she said.

Speaking at a cottage meeting at the Rio Claro Presbyterian School on Saturday night, Persad-Bissessar referred to her opponent MP for Cumuto/Manzanilla, Christine Newallo-Hosein, as one of the people who supported the COP. "I do not know what people are up to right now. What I know is we have to stay united and strong as some of the same players are in this scenario of challenging me now," she said, adding that their plan is to mash up the UNC as they are not forming a party of they own.
Newallo-Hosein, is challenging her for the leadership on the UNC, at the party's internal election on November 26. She noted that her opponents are saying they cannot win the internal elections of the UNC. "So I ask what is their role now.
If these people are saying they cannot win then their aim is to mash up the party," she said, adding that the PNM is instigating this. She told supporters she has spent half of her life in the UNC and she has never left "and when the time came for me to challenge the leader I did so fairly – one man one vote."
Urging supporters to remain focus and do not allow anyone to divide the party, she said people were successful in dividing the UNC more than once. "It seems to be the history of the UNC story. Way back when we had the division with Raffique Shah and Panday, then came the COP. and later on we had the ILP," she said, adding that she does not know what is coming. Whenever, Persad-Bissessar said supporters are divided they lose elections.
Full Article : newsday.co.tt