By Anna Ramdass
September 14, 2017 – trinidadexpress.com
COLLUSION.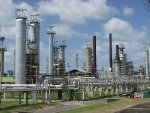 This was how State-owned Petrotrin was defrauded of close to $100 million.
Details are contained in the August 2017 report by Petrotrin's internal audit committee which unearthed the "fake oil" scandal.

The report stated the fraud was facilitated by a Petrotrin employee (named)—and also contained the GPS records for the employee's vehicle which showed the employee spent over five hours on one occasion at the offices of the "Operator"—A&V Drilling's Penal head office—when there was no need to. The employee visited the office on nine recorded occasions for the period January to June.
The report stated the employee had no reason to visit the Operator's office, as his jurisdiction was limited to the Operator's sales tank farm facilities. The report described these visit as "suspicious" and as a "possible indicator of collusion" between the Operator and the employee.