By Raffique Shah
August 24, 2017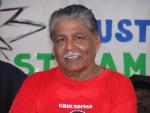 Amidst the cacophony that has erupted over the inter-island ferries fiasco, the calls for official enquiries of one kind or other into the leasing of the Ocean Flower II convince me that as a nation, we are gluttons for political punishment.
The Prime Minister, yanking our collective chains with perverse delight, names business magnate Christian Mouttet as sole investigator into circumstances surrounding the Port Authority's (PATT) decision to lease the Ocean Flower II and the aptly-renamed Cobo Star cargo vessel from a seemingly mysterious company, and to hand in a report to him within 30 days.

That act was an insult to the nation's intelligence—if we have any left. He and Mouttet and all of us know that in a country that is notorious for time- and records-keeping, not to add the recently acquired propensity for litigation, Mr Investigator will hardly be able to zip and unzip his fly in a month.
Mouttet will be stonewalled, threatened, sued, harassed, hounded and persecuted so much so he will wonder what madness possessed him to accept the appointment in the first instance.
But if Moutttet was mad to take basket from the PM, what of the mass of people who are demanding public and parliamentary enquiries, probes by the Integrity Commission, and criminal investigations by the police?
People, how many public enquiries have we had, say, over the past 17 years? Offhand, I remember Las Alturas, CLICO and the Hindu Credit Union, the construction sector (Uff Commission), the 1990 attempted coup…need I continue? There will have been at least 10 such enquiries that will have cost taxpayers many millions of dollars.
Has any one of them led to the arrest, successful prosecution and jailing of any public official? Not one! In fact, in almost every instance the principal characters under probe refused to attend and testify, and Parliament has not amended the relevant laws to compel them to so do or face charges of contempt.
A handful of lawyers who are retained by interested parties at astronomical fees emerge from these lengthy, useless exercises with their bank accounts fattened and their clients safely ensconced beyond the reach of the law, never having to face a court, far less imprisoned in dank cells the way scores of politicians and corrupt business magnates are in Brazil, to use one example.
So why call for a commission of enquiry into the ferries fiasco—to waste more time and money?
Similarly, other than unearthing scandals that are fodder for the media, joint select committees of Parliament are impotent. The Integrity Commission is powerless even to persuade public officials who fall under its purview to comply with the obligatory annual declaration of assets requirement. Every year, without fail, hundreds of such State boards' directors, parliamentarians and senior officers ignore the IC's regulations. And its resort to naming and shaming them is a joke, since you cannot shame the shameless.
So all these strident calls on Government, on the President, the police (the police who cannot charge even criminals caught in the act!) and sundry eunuchs who hold high offices laden with trappings but devoid of power, are hollow, meaningless.
Those responsible for the ferries fiasco, whether it was through incompetence, negligence or corruption, will remain unscathed, probably continue to hold high offices, to demand respect from lesser mortals, knowing that the masses, especially the party sycophants, are gluttons for political punishment.
On this note, it is incumbent on me to report that Ferdie Ferreira telephoned me within hours of my last column being published to distance the previous PATT board on which he served, and which, he insists, was "constructively dismissed", from anything to do with the procurement of the Ocean Flower II and the Cobo Star.
He said that that board had recommended that the lease arrangement with the Superfast Galacia be extended for one year, during which time the PATT and Government would decide on a way forward with the sea-bridge. How and why this advice was rejected, leading to current mess, he does not know.
Nor would we, the public, I should add, whether we decide to await the findings of Super-Mouttet, or the results of investigations conducted by any or all of the agencies I mentioned above.
You see, ours was never to reason why; ours was always to vote and comply, to blindly follow the leaders of our respective tribes, matters not that they mislead us into the Valley of Debt or Death, that they succumb to the temptation to steal from the public purse, a not-so-original sin that this nation has been cursed with.
For verily I say unto you that only you can deliver yourselves from Evil once you remove the tribal scales from your eyes, grab the nearest "bullpistle" you can lay your hands on (the way Christ did in the temple), and beat and evict them, all of them, from office, forever and ever, Amen.
Who we go put? You ask. Find Lloyd…he knows Best…