By Raffique Shah
August 15, 2017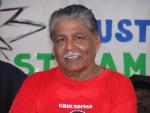 It is incomprehensible to me how two boards of directors at the Port Authority of Trinidad and Tobago (PATT), two line ministers responsible for the operations of the ferry service between Port of Spain and Scarborough, and a battery of senior public officers in the employ of the PATT and Government, could make such an unholy mess of the sea-bridge, culminating with the acquisition of a defective old tub that failed to even arrive in the country.

If I may wax lyrical, I find their ineptitude inexplicable, given that these high-and-mighty men and women all possess numerous academic appendages to their names, which signals they are highly qualified in their respective disciplines. Their mission was simple: find us two ferries that would, over the next year or two, service the sea-bridge adequately, especially during the maintenance downtime of the T&T Spirit and the T&T Express, until Government acquires new vessels.
To you and me, that may seem to be a relatively simple task that calls for common sense. First, locate vessels available for lease that meet the specifications. Second, obtain the histories of the vessels, which is not difficult, as CCN reporter Mark Bassant demonstrated. And third, have your engineers do physical checks to verify the operational capabilities and reliability of the short-listed ferries before you select or sign any contract to lease them.
In other words, make sure the damn boats can deliver what is expected of them, that the owners are not saddling you with lemons, as appears to be the case with the Ocean Flower II.
That this phalanx of public officers and the Government, which cannot claim to have not known what was happening, got it wrong for the umpteenth time, is a sad indictment against all involved in the process. Not only do they come across as being grossly incompetent, but their failures have raised the spectre of corruption, which the Keith Rowley Government vowed to eliminate when it campaigned against the wanton wastage and possible theft of public funds during the tenure of the previous administration.
Fire the Minister of Works and the PATT board, many say. Okay, so we do that. Then what? Appoint a new minister and new board, only to discover that they are no different to the incompetents who were fired?
In fact, we can fire the whole damn Government over the ferries fiasco and other sins of omission or commission and re-elect the Kamla Persad-Bissessar gang. Would we be better off? Half of this racially-divided country will say yes, the other half will say no. In my view, that would be like choosing the bandits who, unmasked, literally pose for CCTV cameras during robberies, over those who hide their faces while committing crimes.
In other words, people, we've got a huge problem, a systemic societal problem that runs deeper than issues like the sea-bridge, crime, policing, the health system, etc, all of which are symptoms of that malaise.
If you think the sea-bridge mess is indicative of the Rowley regime's incompetence, consider this. In the eight years spanning 2009 to 2017, three governments doled out twenty or twenty-five or thirty billion of your and my money to CLICO or CL Financial or some private corporate entity owned by billionaires.
These governments-Patrick Manning's, Persad-Bissessar's, and now Rowley's-cannot agree on exactly whom they lent our money to, how much they lent (or donated), whether or not interest was charged on all loans, whether the money was secured by assets that exceed the loans, or, indeed, if they can recover any of it.
Worse, they confuse simple you and me with complex share-ownership equations that, to me, set the stage for the disappearance of many billions of dollars that we won't know we have lost, or who stole or pocketed it. One Lawrence Duprey company (don't ask me its name-more confusion!) owns X percent of Angostura, which, in turn, owns Y percent of CL Brands, but CLB owns A percent of B…
You see confusion? Simple math tells me if we lent Duprey $25 billion over a period of, say, five years, then principal ($25 million) multiplied by rate (say 5 percent) by time (5 years), divided by 100 equal $6.25 billion. So Duprey owes the Treasury $25 billion principal plus $6.25 billion interest, which amount to $31.25 billion, minus whatever sum has already been repaid to Government.
But much the manner in which the acquisition of a ferry or two has spiralled into as complex a challenge as landing a manned spacecraft on Pluto, the CL multi-billion-dollar problem authored by three T&T governments will send math wizard Stephen Hawking stark crazy.
We cannot, however, absolve ourselves from these politically-generated mountains of manure. Who created the politicians who defecate on us? We did. We moulded them with both our hands (applause), and especially with our index fingers, which, if we use our imaginations, we could put to far more rewarding uses.