By Raffique Shah
August 10, 2017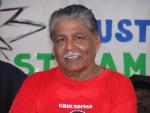 "I'll share with you a personal secret…I. Don't. Like. Pone!" said Malcolm Jones, emphasising every word he uttered. I couldn't believe what he revealed: a Trinidadian who did not like pone, that cassava sweetbread whose taste and texture are sinfully irresistible to natives of this country? We eat pone by the slabs, not slices. "Malcolm," I responded, "what kind of Trini are you?"

"Let me explain," he said, with a wistful smile on his face. He related a story that touched my heart, but one that I understood because it was not uncommon among people of our generation, he being a few years older than I, and of similar social and economic background.
His mother made and sold pone to supplement the family income when he attended primary school-in Marabella, I think. She did that several times a week. Like most parents then, she did not like to see food-or pone, I imagine-go to waste. So what she did not sell, Malcolm had to eat. "Boy, I remember eating pone until I got sick," he said. "I grew to dislike it…as an adult, I hardly eat it."
That conversation took place many years ago, maybe in the late 1970s or early 80s, when he was the boss at Tringen, the country's first State-owned nitrogenous fertiliser plant. We were more than likely reminiscing about our humble beginnings when the pone issue cropped up. It stuck in my memory, and I remembered it most times I saw or listened to him speak via the media as he moved up and around the energy sector, ending his career, and, last week, his life, unceremoniously, at State-owned Petrotrin.
Malcolm, a highly qualified and experienced engineer who knew the energy sector inside-out, was among the hands-on pioneers of the downstream industries that today form the Point Lisas Industrial Estate. Professor Ken Julien was the architect of the usage of natural gas for manufacturing fertilisers and methanol, and for powering electricity and other heavy industries. His "officer corps" included Jones, Kerston Coombs and Trevor Bhoopsingh, to name just three of that elite squad that did Trinidad and Tobago proud.
Not everything they touched turned into black or gaseous gold: the billion-dollar steel mill, ISCOTT, was a financial disaster, such that by the early 1990s, it was first leased, then sold for US $70 million, a fraction of its construction cost, to Lakshmi Mittal's Ispat. It was that plant that propelled Mittal into the global steel magnate he eventually became. To show his ingratitude for what T&T did for him, Mittal put the plant into receivership last year, sending hundreds of employees on the breadline, and forcing the closure of several smaller downstream steel operators.
An illustrious career that saw him serve at the highest levels in energy companies came crashing down at the very Pointe-a-Pierre oil refinery where he started out back in the mid 1960s, then owned and operated by Texaco.
Appointed executive chairman of Petrotrin in 2002 by then Prime Minister Patrick Manning, his personal friend, a factor that likely worked against him given the nature of politics, Jones oversaw a multi-billion-dollar refinery upgrade and gas optimization programme that experienced punishing cost overruns and a decade-long timeline. More controversially, he pursued the establishment of a gas-to-liquids (GTL) plant with an unknown company (World GTL), a project that cost Petrotrin more than one billion dollars, and which was abandoned by the international partner.
All of the above saddled Petrotrin with a burdensome $13 billion-plus debt.
The upgrades have been completed, but with depressed petroleum product prices, they add little value to the company's bottom line.
These latter failures, some say misadventures, made Malcolm's name mud, especially when the People's Partnership Government persecuted and prosecuted him. Ask the average Trini about Jones, he is likely to respond: he is ah old t'ief from Petrotrin.
Malcolm knew he would take the fall for the GTL disaster although the critical decisions will not have been his alone. The GTL plant was a good idea that backfired because of a bad choice of partner. Even as the project crumbled, Shell constructed a huge GTL plant in Qatar that is operational and profitable.
Regarding the upgrades at the refinery, not dismissing the cost overruns, had petroleum prices remained buoyant, Petrotrin would have reaped rich rewards and Malcolm would have been a hero.
It was the PP administration that attempted to prosecute Jones for the billion-dollar loss in the GTL project, which was clearly a bad business decision. Using their logic, who should the State sue for the contractor-abandoned, billion-dollar Beetham wastewater plant? Or the similarly-abandoned Hochoy Highway extension? The former Prime Minister? That is donkey logic.
At Petrotrin and other State enterprises, the potent cocktail of politics and business has proved to be highly toxic, even fatal.
In Malcolm's case, and here I paraphrase Shakespeare, the mistakes he made, and poor choices, will live after him; the good he did will be interred with his bones.