By Gail Alexander
July 02, 2017 – guardian.co.tt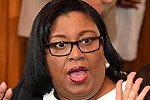 In what's probably the shortest-lived Government appointment in recent memory, Prime Minister Dr Keith Rowley yesterday fired Marlene McDonald from his Cabinet (again) after he had re-appointed her to office just three days ago. In fact, McDonald didn't even have time to move into the Public Utilities Ministry for which she had been announced last Thursday and for which she'd taken the oath of office at President's House, St Ann's, last Friday.

And her Port-of-Spain South constituents – like Kenroy Dopwell – are now hurt and angry enough to urge her to challenge Rowley for the leadership in next year's People's National Movement (PNM) election.