By Sean Douglas
June 10, 2017 – newsday.co.tt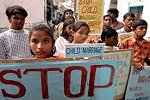 THE Opposition last night ditched their previous qualms and hang-ups to join with Government in the House of Representatives to change the law and end child marriage in this country. By 35 votes "for", none against and zero abstentions, the House unanimously approved the Miscellaneous Provisions (Marriage) Bill 2016.

On January 17, the Senate passed the bill by 23 "for", none "against" and five abstentions, the latter comprised of Opposition Senators. The bill amends the Marriage Act, Muslim Marriage and Divorce Act, Hindu Marriage Act, Orisa Marriage Act and Matrimonial Proceedings and Property Act.
Upon Speaker Bridgid Annisette- George reporting the results of the vote to the House, a clearly relieved Attorney General Faris Al-Rawi said, "I would just smile for a moment. I'm elated. I thank honourable members and you Madam Speaker sincerely." Minutes before, the taking of the vote had some moments of excitement.
Opposition chief whip David Lee was first to indicate his party's line with a "yes" that elicited desk-thumping from the Government benches. Down the line other Opposition MPs agreed.