By Sean Douglas
October 12, 2016 – newsday.co.tt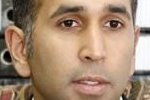 AMIDST Opposition claims that photos exist of persons resembling children of top Government officials holding firearms resembling those commonly used by the Defence Force, Attorney General Faris Al-Rawi could not ascertain if those featured in these photos are his children, but admitted members of his family have undergone "threat assessment" training at Cumuto Army Base as part of security protocols for families of State officials deemed to be at high risk.

Al Rawi held a news briefing outside Parliament after Oropouche MP Dr Roodal Moonilal told the Lower House, during the Budget debate, that he possessed photographs that he would like to show to Al Rawi to see if he (the AG) recognised anyone. Al Rawi later told reporters Moonilal was "reprehensible" for bringing youngsters into the political fray.
The Attorney General said he had not seen the photos and had not been with his children at all times during the training session.
In his contribution to the Budget debate, Moonilal had said, "It was shocking for me to receive photos of young children in this country with high-powered weapons training somewhere. I'm told the weapon is the UMP nine millimetre calibre." He said these weapons are commonly used by the TT Defence Force. "What is more frightening and I say this with trepidation, is that I am told these children bear a striking resemblance to the children of a senior Cabinet minister." House Leader Camille Robinson- Regis complained that Moonilal was imputing improper motives, with Speaker Bridgid Annisette-George agreeing that is was more than a pointed innuendo.
Moonilal then said, "I'd say they are children with a striking resemblance to senior government officials. I will now ask the Attorney General – I'll pass it to him – if he recognises the children in this photo." He asked why children are posing for pictures with guns.
"I'm also informed that these children posed for these pictures around October 2015 in the western part of Trinidad and these weapons belong to the Defence Force, and they were playing with weapons and gallerying," Moonilal said. Moonilal said the pictures were posted onto a Facebook page named, 'Kick out the PNM'. He asked if the Defence Force knew of this episode. "It is wrong to tell the children of Laventille, Beetham, Enterprise, Penal, Debe, Barrackpore that they should not take up guns, but then we have our own children taking up guns." "If what I am saying is correct it speaks to recklessness, it speaks to a breach of the criminal law, it speaks of an abuse of office, it speaks of an unfitness to hold public office," he hit. "And if anyone is deemed to be responsible for these children, they ought to demit public office today." Later Moonilal urged several anti-crime measures, saying, "You need to take the guns off the hands of children." Bemoaning photos of children with guns, he emphasised, "It is wrong, wrong, wrong. We cannot build a society where we encourage children to take up guns. We cannot build a society where we encourage children to use nine millimetre UMP calibre weapons as if it is a game and a toy. This is where we have reached. We cannot build a society by transmitting those messages." Al Rawi, at his news briefing with Minister in the AG's Office Stuart Young, said he had not heard nor seen Moonilal's speech, nor seen the photos. He said the TT security agencies conducted a "threat assessment" on him and his families and decided to instruct them in international protocols at the Cumuto Army Base, including how aggressors behave and what can be expected. The AG hit out at Moonilal calling him "most reprehensible".
Asked if he was concerned about the photos online which may show members of his family with guns, AG Al Rawi said he had not and would reply to issues raised by the United National Congress (UNC).
"A person in public life lives with the understanding that everything you do in public life is in the public." He said he does not want to go "down the rabbit hole" of exposing his family's security arrangements.
Asked if he recalled whether his children would have been exposed to handling guns during the protocols training, he replied, "My children were separate from me on much of the day of training.
Minister Young and I were in fact together. We were in a separate position.
I can't speak for the Army or for anything else, but can tell you that threat assessments have to be treated seriously. If the Army tells you they have done a threat assessment against you and your family and you have to come in and be informed about it, and if Special Branch tells you there are protocols, you don't take that lightly.
Both of us have received umpteen death threats. We are engaged in very serious work against known criminals.
Source: www.newsday.co.tt/news/0,234441.html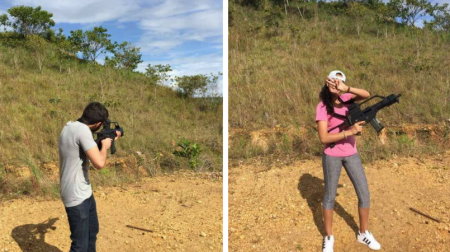 TTDF: 'Close protection' offered to officials and their families
The Trinidad and Tobago Defence Force has confirmed that it offers close protection to this country's leaders, inclusive of "exposing the principal and his/her family to scenarios that may be encountered during the time that the principal is in office".
The confirmation was made in a statement signed by Senior Public Affairs Officer of the Defence Force, Major Al Alexander on Wednesday.
The response follows assertions by Oropouche East MP Dr Roodal Moonilal that Attorney General Faris Al-Rawi committed a number of criminal offences in having his children undergo security training which involved them operating high-powered rifles.
AG confirms family assessed by army after death threats
Attorney General Faris Al-Rawi confirmed yesterday that his family had received a threat assessment and instruction from the army after he received several deaths threats since he assumed office last year.