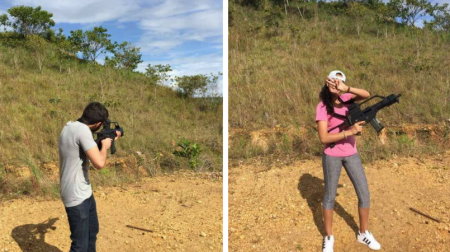 By Renuka Singh
Oxctober 14, 2016 – trinidadexpress.com
Acting Police Commissioner Harold Phillip has ordered an investigation into how the children of Attorney General Faris al-Rawi came to be holding high-powered military weapons.

The Express also understands here is no written police record that Al-Rawi received any death threats that prompted the gun training of his two young children.
While Al-Rawi has not yet confirmed that the pictures are of his children, both Prime Minister Dr Keith Rowley and the Defence Force, in their respective statements, have linked the children to Al-Rawi.
Full Article : trinidadexpress.com
Time for full story on teens with guns
Published: Saturday, October 15, 2016
EXTRACT:
Unfortunately what we have heard so far from the Attorney General and Prime Minister Dr Keith Rowley are statements which deflect from the possible illegality of the acts, not admitting to anything, a frontal attack on MP Roodal Moonilal—who claimed he did what he had to do—and unsubstantiated allegations against Defence Force personnel.
A statement from the senior public affairs officer of the Defence Force Major Al Alexander is more forthcoming. Major Alexander said the AG's family members "were not involved in the training exercise; the purpose of them being there was for them to understand in particular emergencies what is done." Further, apparently explaining why the weapons were placed into the hands of the teenagers, Major Alexander compared it to when exhibitions are held by the Defence Force and there is the curiosity of someone wanting to hold and feel a weapon.
"It was really to remove the fear and apprehension," said the officer. And "we allowed them to hold it, the gun," he suggests.
The difficulty there is whether such action is legal and who has to take responsibility if the act of handing the weapons to teenagers is not legal.
http://www.guardian.co.tt/editorial/2016-10-14/time-full-story-teens-guns