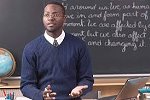 THE EDITOR: I can NOT believe that a new dress code for teachers is an issue. Really?! Wasn't the existing one clear-cut enough?
Be that as it may, if true, it is welcome. Welcome in the sense that it serves to illuminate some of the elephants crowding the room that conservatives and the wilfully ignorant among us – i.e many of the over-40 age group – have no intention of discussing. You see in the wording of current guidelines (and no doubt the new one) there is a distinct gender bias, but that's apparently okay with many people, including radio talk show hosts and their callers.

I mean, I totally agree that there must be some level of decorum in the classroom and so on; cool. But if nothing else, this "issue" is yet another one that exposes how uncritically many in this alleged Republic accept and adhere to old, colonial-era ideas about the corrupting influence of human, particularly non-white, and ESPECIALLY Black female bodies and sexuality. It shows how many still believe that the best way to deal with this is to simply cover up and to no doubt police by shaming. To do anything else would mean undertaking activities that would expose young people to the volumes of researched information about human sexuality and perhaps the real origins of the sexual and "modesty" codes we inherited in 1962. In other words, they'll be taught the same sex-ed/HFLE that is currently being held hostage by certain religious bodies, although T&T is supposed to be a Republic.
To a somewhat lesser extent, this issue will bring up the question of what it means to be properly dressed, even for men. It is so galling that 54 years after changing flags, 40 years after becoming a Republic, "proper" men's attire is still gauged by European (default) standards; jackets and ties are still insisted upon in some spaces. Up to now, we (well, except Gerald Yetming, Wade Mark and the late Chief Servant) lack the inner confidence to adopt local modes of formal dress that is conducive to a tropical environment and insist that everyone else respect our damn decision.
So, bring on the new dress codes for teachers and happy Republic Day.
Corey Gilkes
La Romaine