By Dr. Selwyn R. Cudjoe
September 19, 2016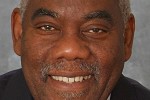 On Wednesday, Thursday and Saturday of this week, the Trinidad and Tobago Film Festival shall premier "Every Cook Can Govern: The Life, Impact & Works of C. L. R. James," a film that was produced by Worldwrite, an English non-profit or charity organization. The producers describe this documentary as "The world's first film on the life of a fearless and uncompromising revolutionary." There is much truth in advertising here. "Every Cook Can Govern" is a well-crafted and informative film about one of Trinidad and Tobago's most distinguished intellectuals and Marxist theoreticians.

Ceri Dingle, the director and major force behind this production, is an English woman of revolutionary stature. I have grown to know Ceri over the last five years. I can testify to her commitment to this project and the many years she has given to see her dream come true. The making of this film is further testimony to Ceri's commitment to documenting the lives of revolutionary figures and her deep respect for James's work.
"Sylvia Pankhurst: Everything is Possible," was Ceri's first foray into the making of documentary films. In 2011, she examined Sylvia Pankhurst's life as a revolutionary and suffragette. Pankhurst, an Englishwoman, was imprisoned many times for her tireless campaigning for the rights of women's suffrage.
Helen Pankhurst, granddaughter of Sylvia, said of the film: "Brilliant film—I've read and seen a lot about Sylvia—This ranks right up there! Many thanks for bringing my grandmother to life in this way."
A similar observation can be made about "Every Cook Can Govern." Through the use of archival materials and the perspicacious insights of knowledgeable scholars and erudite laypersons who worked with James, Ceri captures the vitality of James's intellectual life.
I asked Ceri what made her interested in James. She explained she read The Black Jacobins, James seminal work, in her twenties and "was bowled over" by James's acute understanding of the importance of always "taking people into his confidence and allowing them to speak their truths."
James's political method, she says, contrasted with "the politics of 'behind closed doors', which was imposed upon people at that time." His criticism of William Wilberforce "amazed me as we were all taught at school that Wilberforce, the British aristocrat, was the great liberator of the slaves. From James, we learned with such force, that this was a lie."
Determined to document the life of this great man on film, Ceri and her crew assembled materials on James's life before she began her project. She says, "We arranged an open crew meeting and discussion of Black Jacobins and drew up a book and article list. With 11 books and 834 papers and articles by James, it was clearly not going to be a short affair."
Ceri and her volunteers took five years reading, attending conferences on James, and talking to experts before they were able "to suss out" James's life. Just to get it right—and that's the nature of Ceri's productions—they needed another 200 volunteers to assist in the production of this path-making film.
Gathering the materials was one thing. Raising the necessary cash to produce the film was another matter. After a year, they received grants from the British Heritage Lottery Fund, the Esmee Fairbairn Foundation and the Trust for London.
This generosity was not sufficient to produce the film. So, they did what any charity does when it is determined to achieve its goals. Endless fundraisers became the order of the day: "Many, many individuals chipped in with £5 or £10. We ran 2nd hand book sales, did cake sales and 'readathons' and other such events to raise the necessary funds."
It cost Ceri and her company $2 million TT to produce the film. Although she is still in debt, eventually she hopes to raise enough money to pay off the remaining balance. Her faith in her project remains.
But what is her greatest joy? She says: "We hope the film will inspire new generations to read James and consider his ideas. That makes it all worthwhile to me."
Ceri will be in Trinidad this week. It's her first visit to our island. She is dying to see James's grave in the Tunapuna Public Cemetery; the house of which James speaks when he wrote Beyond a Boundary; and can't wait to taste rice and peas, James's favorite meal.
Trinidadians and Tobagonians can pay Ceri the greatest compliment by making every effort to view her film. It's the least we can do. In the end, all artists want to share their creations with their audiences.
Ceri would love to know if she did justice to a man who is now acclaimed as one of the leading intellectuals of the twentieth century. We, in T&T can let her know if she did.