Newsday – August 30 2015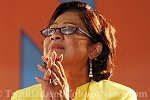 The latest North American Caribbean Teachers Association (NACTA) tracking poll finds the 2015 General Election still to be going down to the wire with the outcome in a few marginal seats determining who will be the prime minister.
The poll also found that Kamla Persad-Bissessar has been consistently leading her main challenger, Dr Keith Rowley, in voters' choice for Prime Minister as well as in approval and favourability (likeability) ratings.

With just one week to go before the September 7 general election, the poll found that the United National Congress (UNC) leads 21-20 but several of these seats are within the margin of error in terms of how voters say they plan to vote. Thus, the projected outcome could vary, the poll said.
In terms of national support, the PP leads PNM 45 percent to 40 percent with ILP four percent, the poll said.
The poll has a margin of error of four percent, meaning support for either Persad-Bissessar or Rowley could vary by four percent in either direction.
In terms of likeability, 46 per cent of the persons interviewed felt Persad-Bissessar was the preferred choice for PM while 41 percent felt that Rowley should be given a shot. Asked whether they approve or disapprove of Persad-Bissessar's performance as PM, 54 per cent of those polled said they approve as compared with 37 per cent who disapprove. Rowley's job approval rating currently stands at 49 percent with a disapproval rating of 40 per cent.
On whether they have a positive or negative view (favorability) of the prime minister, 57 per cent said they have a positive view with 37 percent holding a negative view, giving her a net likeability rating of 20 percent.
Rowley's positive (likeability) rating stands at 52 per cent with a negative of 39 per cent giving him a net likeability rating of 13 per cent.
Meanwhile, the poll found no significant loss or gain for either PNM or UNC from Winston "Gypsy" Peters' resignation from the UNC, early last week.