By Raffique Shah
June 21, 2015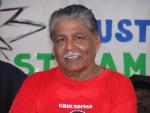 Jack Warner is not a mad man—or delusional, as the Prime Minister euphemistically puts it.
If he was, then the PM, who chose him to act in the highest office in the land on several occasions, and assigned him to the national security portfolio three years ago, must be madder than him.
And members of Cabinet and the People's Partnership hierarchy who clung to him as if he were a latter-day Jesus or Rama or Muhammad, are the maddest people ever to have governed a country.

I refuse to believe that, which might prompt many readers to say that I am a mad man. I don't think I am, but in this madhouse that is Trinidad and Tobago, you really never know.
What other explanations can there be for the depths to which we have sunk in an election campaign that many feel is too lengthy—eighty-something days.
If we look back carefully, we'd realise that campaigning and campaign financing never stopped from January 2010 when Jack more than anybody else propelled Kamla to power, first in the UNC, and five months later nationally, ousting a bungling Patrick Manning from power and politics, and effectively ending the era of Basdeo Panday.
It's not that mad people cannot do all of the above, or more.
A certifiably-insane Adolf Hitler conquered most of Europe, and almost extended his reach to the rest of the world but for the intervention of fate and the determination of a faithful few.
Many among the local intelligentsia swear that Jack is Machiavellian—defined as someone who is cunning, scheming and unscrupulous, especially in politics.
I cannot claim to have studied The Prince, hence my knowledge of Niccolo's infamous work and thesis is very limited.
I think, though, that people are ascribing too much sophistication to Jack's mind and his modus operandi.
I see him as the consummate "Trini smartman" (as my colleague Sunity Maharaj aptly described him a few weeks ago) who has a "a cynical disregard for morality and a focus on self-interest and personal gain" (Machiavellian traits, according to Wikipedia).
Add a tonne of plain nastiness to that, and you have Jack.
Thing is, though, for someone like him to wreak the havoc he has already done, with promises of more to come ("who ent dead badly wounded"), suggests that among his friends and associates of yesterday are people nastier than he.
Reason through this: when he dropped the stink-bomb about ganja allegedly being found by the police at the PM's private mansion two years ago, the responses of everyone named in the conspiracy to suppress the investigations ranged from "ah cyah remember" to "no comment".
The population is left to wonder.
I should add that police investigations two years after the fact will almost definitely come to nought.
Few persons will be bothered to learn that some member or members of the PM's circle of friends or staff smokes a little ganja.
Most people who matured in the 1960s and thereafter did: I am among them, I am not ashamed to say (let the hypocrites deny, deny!).
One day I might write about my experiences with ganja, including being introduced to a "chillum" by a pundit!
The point in contention is when there is any such find at ordinary citizens' homes, be it a joint or a kilo, everyone in the household, even granny, baby and the dog, is arrested, humiliated and paraded in public, and most likely charged.
In this instance, there was not even an investigation, and that is wrong. Jack was prepared to admit to being part of the suppression plot, which is a crime, just to lash back at Kamla.
He will descend deeper in the gutter, having no doubt taped telephone conversations with people on high, saved damning e-mail exchanges, and most or worst of all, kept copies of cheques to show that he doled out tainted money to many of his friends of yesterday who are today snapping at the hand that signed them.
Look, Jack knows at the end of it all, once he lives (and why not? he's healthy), he will end up in a cell in some American jail. Prison in any country or condition is harsh because you lose your freedom. But it's not the worst retirement plan: you could be crippled and lying like a vegetable on a luxury bed.
In this bid for revenge, he is using every bit of ammunition he has to bring down the Government that he helped install.
He knows that when the mighty have fallen, that's a fate worse than imprisonment…or death.