Sepp Blatter to resign as Fifa president after 17 years in role
By Owen Gibson
June 02, 2015 – theguardian.com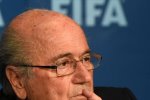 Sepp Blatter has dramatically quit as Fifa president just days after he was defiant in re-election for a fifth term, sparking a flurry of speculation over the future of world football and the fate of the next two World Cups in Russia and Qatar.
Under intense pressure from ongoing investigations by the FBI and Swiss prosecutors that have already led to 18 senior football executives being charged in the US on charges of money laundering, tax evasion and racketeering, Blatter said he had decided to step down.

But the 79-year-old Swiss, who defeated his Jordanian challenger Prince Ali bin Al-Hussein on Friday despite the mounting crisis, said he would stay on for at least six months to allow time for a proper election to replace him between December 2015 and March next year.
Hours after he stepped down there were reports in US media that Blatter was being investigated by American officials as part of their corruption inquiry.
Full Article : theguardian.com
~~~~~~~~~~~~~~~~~~~~~~~~~
Sepp Blatter to resign as Fifa president amid corruption scandal
BBC – June 02, 2015 – bbc.com
Sepp Blatter is to resign as president of football's governing body Fifa amid a corruption scandal and is reportedly under investigation in the US.
In announcing his exit, the 79-year-old Swiss has called an extraordinary Fifa congress "as soon as possible" to elect a new president.
Blatter was re-elected last week, despite seven top Fifa officials being arrested two days before the vote.
But he said: "My mandate does not appear to be supported by everybody."
Full Article : bbc.com
~~~~~~~~~~~~~~~~~~~~~~~
FIFA president Sepp Blatter resigns amid corruption scandal
By ESPN staff
June 02, 2015 – espnfc.com
FIFA president Sepp Blatter announced his resignation on Tuesday amid the corruption scandal that has rocked FIFA's world governing body.
Speaking at a news conference in Zurich, Blatter said he would remain in his position until a special election can be held to appoint his successor.
Domenico Scala, the chairman of FIFA's Audit and Compliance Committee, said an election would be held sometime between December 2015 and March 2016.
Blatter was just re-elected to a fifth term as president at the FIFA Congress on Friday, two days after a corruption crisis erupted and seven officials were arrested in Zurich.
"FIFA needs a profound overhaul," Blatter said. "Although members have given me the new mandate, this mandate does not seem to be supported by everyone.
"We will hold an extraordinary conference as soon as possible. A new president will be elected."
Full Article : espnfc.com