LIVE UPDATES
FIFA is convening to elect a president, choosing between Sepp Blatter and Jordanian Prince Ali bin al-Hussein. If Blatter, currently under pressure over a massive corruption scandal, wins the vote, it will be his fifth term.
Blatter said there would be no problem if 'two other countries' – meaning England and the USA – were awarded World Cups in 2018 and 2022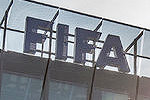 Sepp Blatter implied in his president's address at the FIFA Congress that the £100million corruption scandal was a Western conspiracy. Blatter claimed things would be different if two other countries had emerged from the envelopes.
He meant England for 2018 and USA for 2022 – a dig at the British media who have led the anti-Blatter agenda and the FBI, whose investigations led to seven arrests and 14 officials indicted on bribery and kickback charges by the US Attorney.

Blatter said: 'They call into question the World Cups of 2018 and 2022. In December 2010 here in Zurich when we decided on the two World Cups in one session.
'If two other countries had emerged from the envelopes, we would not have these problems today. But we can't go back in time, we are not prophets. We can't say what would have happened.'
Full Article : dailymail.co.uk
~~~~~~~~~~~~~~~~~~~~~~~~~~~~~~~
Daily Mail website leads with Jack Warner and FIFA (image)
Fifa presidential election live updates: Sepp Blatter stands against Prince Ali amid corruption scandal
~~~~~~~~~~~~~~~~~~~~~~~~~~~~~~~
Hours after being freed from prison for 'exhaustion', corruption suspect Jack Warner parties… then Blatter hints scandal only erupted because US and England were not awarded World Cups
'If I have been thiefing FIFA money for 30 years, who give me the money? How come he is not charged?' he declared. 'Why only persons from Third World countries have been charged?,' he added, drawing hoots and applause from supporters in the district he represents as an opposition member of Parliament.
Defiant Sepp Blatter vows to fix Fifa as pressure mounts to resign
President speaks in Zurich in first public appearance since scandal broke, while North and Central American football federation dismisses executives
UK banks named in football bribery scandal: Barclays and HSBC 'handled suspected cash'
Two of Britain's biggest High Street banks have been dragged into the bribery and corruption scandal engulfing football's world governing body. Barclays and HSBC have been named in legal papers filed by the US Department of Justice after millions of dollars in suspect transactions linked to Fifa were allegedly moved through their accounts.
Sepp Blatter could be kicked out even if he wins vote as knives come out for FIFA boss
Sepp Blatter is on the brink of being ousted as FIFA president, even if he wins Friday's election. The 79-year-old is the favourite to win a ludicrous fifth term when he goes up against Prince Ali bin Al-Hussein of Jordan on Friday afternoon, despite the mass corruption scandal this week which has discredited his FIFA tenure.
FIFA's former vice-president Jack Warner leaves jail in ambulance after complaining of exhaustion following corruption arrest
Jeffrey Webb charges 'astound' former adviser David Davies as FIFA corruption fallout continues
The British adviser to disgraced FIFA ExCo member Jeffrey Webb says he was 'astounded' at the corruption charges levelled at FIFA president Sepp Blatter's heir apparent. Global football consultant David Davies, former senior FA executive, has worked closely with Webb — seen until his arrest this week as a great reformer — for more than a year and was alongside him at the CONCACAF Congress in Nassau in April.