Roselyn Alleyne: I was offered $25,000
ROSELYN Alleyne, the mother of the son of People's National Movement political leader Dr Keith Rowley, said she was offered $25,000 to sign an affidavit against him.

'GET ROWLEY' BRIBES
Son of Opposition Leader, mom: Our family was offered $25,000 to induce us to sign affidavit on 'rape'
By Ria Taitt Political Editor
March 27, 2015 – trinidadexpress.com
Roselyn Alleyne has said she would have been paid handsomely if she had signed a prepared affidavit stating that Keith Rowley had raped her.

"I would have been happy with millions," she said, speaking on a video which had been taped in 2014. However she didn't sign "anything and would not be signing anything" because "I was never raped or ever forced".
"To tell you the truth, I always liked him since I going at school, but it used to be a secret something," she said with a smile, referring to Rowley. She said she had Garth, "just a shy away from 18 (years)".
The Express obtained a copy of Roselyn's computer-generated birth certificate showing she was born on September 11, 1952 as well as well as Garth's computer-generated birth certificate and Trinidad and Tobago ID card, both of which showed he was born in June 23, 1970.
Full Article : trinidadexpress.com
~~~~~~~~~~~~~~~~~~~~~~
Martin Daly: How on earth could Vernella still be in office?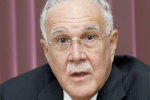 Daly called on all "right thinking persons" to condemn Alleyne-Toppin's statements. "As a commentator I may have more to say on this matter, but I call on all right thinking persons, particularly those who purport to claim the high ground in this society, swiftly to disown and condemn this form of attack perpetrated by the offending member," Daly said. "How on earth has the Prime Minister left her in office?" he said.
Alleyne-Toppin, the Member of Parliament for Tobago East, made the statement in the House of Representatives during her contribution to a motion of no confidence against Rowley.
Full Article : trinidadexpress.com
~~~~~~~~~~~~~~~~~~~~~~
Mother of Rowley's child on Vernella's rape claim: IT'S ALL LIES
By Ria Taitt Political Editor
March 26, 2015 – trinidadexpress.com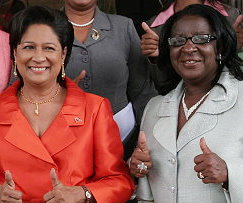 Roselyn Alleyne, the woman who Vernella Alleyne-Toppin alleged was raped 46 years ago by Oppo­sition Leader Dr Keith Rowley, is "disgusted" and horrified by Alleyne-Toppin's assertion. And she cannot understand why people would "fab­ri­cate such lies".
In an exclusive interview with the Express yesterday, Roselyn Alleyne, who is the mother of Garth Alleyne, the 45-year-old son of Rowley, also stated Vernella Alleyne-Toppin is not a relative of hers. "She does not know me. If she sees me anywhere she would not know me. And that should sum up everything," she said.
Roselyn said she heard about Alleyne-Toppin's contribution at Wednesday's debate in the House of Representatives, on the no-confidence motion brought by the Government against Rowley. She said she received texts from Trinidad and Tobago, sta­ting "me and my child were talked about" in Parliament.
"And I asked why? We are happy people. I am here (in Canada) working hard in the cold," she said. Both Roselyn and her son live in Canada. She has lived there for the past 30 years.
"All of what she is saying on the news, take it from me, it's all a lie," Roselyn stated.
Full Article : trinidadexpress.com