GIVE IT BACK
By Ria Taitt
November 07, 2014 – trinidadexpress.com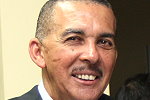 Senior counsel Martin Daly has questioned the legal basis on which the Chief Personnel Officer granted approval for the payment of a tax-free $28,000 housing allowance for President Anthony Carmona.
And former head of the Public Service Reginald Dumas stated yesterday that it would be "ethically reprehensible" if President Carmona is indeed living in State-provided accommodation, while at the same time receiving a housing allowance.

"If that is so, then he should give back the money," Dumas asserted.
If President Carmona has received the housing allowance since assuming office in March 2013, he would have, to date, received in excess of $500,000 tax-free.
"As far as I am concerned, if the State is providing furnished accommodation, there is really and truly no justification for providing a housing allowance in addition to that," said Dumas.
"That would be charging the taxpayers twice and that, to me, is improper and unacceptable," he added.
In a letter dated July 9, 2013, the CPO stated that "as a principle, where an office holder is provided with accommodation by the State, a housing allowance is not payable for any period during which he/she is provided with such accommodation".
Full Article : trinidadexpress.com